Top 10 Reviews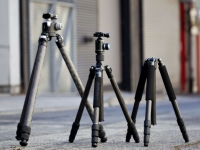 The comparison reviews are more like buying guides curated for various budget segments and usability factors. I have put together some of the most popular models in terms of pricing, build quality, brand value and other variables while highlighting a "winner" and "best value for money" tripods in each of the compilation. Unless you are a hardcore researchers who takes pleasure in reading in-depth reviews, these buying guides will help you get what you desire quick and easy.

Full Reviews
Budget Tripods ( Sub $150 ) –
Professional Tripods ( Over $150 ) –
What is a tripod ?
Well they are those 3 legged buddies used by photographers to hold their cameras still while shooting long exposure shots. They provide elevation and help in locking the cameras in a desirable position. Tripods come in various shapes and sizes targeted at users demanding specific features. Cheaper ones are generally made up of plastic while the more professional and expensive counterparts have metal or carbon fiber build.
What to look for when buying a tripod ?
Every photographer's preferences are different in this regard and you need to find out what works best for you. for example picking a heavier video tripod won't necessary be a very intelligent choice for a frequently travelling landscape photographer and at the same time picking a lighter ball head tripod might not serve very well to a videographer. Lets examine a few factor based on utility –
Size –
The most important aspects in terms of size are overall extended height and compactness when folded up. If you are a tall person you shall opt for a tripod that stretches well up to your eye level. If you travel a lot then it is wise to sacrifice on the extended height and to get a more compact variant that fits your backpack and takes very little space.
Load Capacity –
The general rule of thumb in this regard is "more the merrier" but I suggest you to calculate the maximum weight you are going to mount by measuring the weight of your camera coupled with your heaviest lens and add a 20% margin for expansion. Keep in the mind that load capacity directly affect the raw weight of tripod itself and hence can easily add up bulk to your luggage.
Tripod Head –
Most brands these days ship their tripods with a proprietary head, which in most cases is not easily detachable. So I recommend that you pick one that comes with the head that suits your requirement. The type of heads that you can find in the market is quite overwhelming and will take a separate article to explain in depth. If you ask me I would suggest "pistol grip" type. It is easy to adjust with just one hand and you don't need to waste time loosening up and tightening up knobs.
Leg-Locking Mechanism –
Flip lock and twist-to-turn are the two most popular ones that you find on tripods these days. The former is good to save a couple of seconds while the latter allows you better control on the tension with which you are tightening up the legs. Also in my personal experience the flip locks are more prone to premature failures.
Construction Material –
When it comes to construction material, aluminum and carbon fiber rule the market specially in the professional tripod category. Plastic ones are big no-no and I recommend you to stay away from them. If you don't mind your tripod being a little heavy then aluminum or metal ones are a better choice in terms of value for money. Carbon fiber gets you that feather light feel but obviously for a premium price tag.
Conclusion :
There is no correct answer to "what is the best tripod for me?" and finally it's you who need to make a clever judgement to find out what works best for you. I shall remind you that tripods are one of the most neglected entity in the photography world while they do really affect the picture quality a lot. Also failure of tripods can cost you very expensive repairs on your camera or lenses. I have seen a lot of cheap tripods being tumbled over by a little gush of wind and trust me the result if no less than a nightmare for any photographer. Be wise and buy something decent. Happy Shooting.