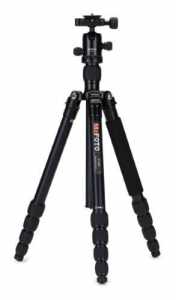 Surfing through the little expensive and professional range of tripods one simply can not miss to notice the MeFOTO roadtrip Tripod. This tripod is a worthy travel companion for serious photographers who need rock solid stability without sacrificing on the portability factor. Quality construction, compact design, precision matched ball head and a wide range of color combination to choose from are some of the key highlights (Model numbers in the roadtrip series based on color combinations are as follows Mefoto A1350Q1K, A1350Q1B, A1350Q1C, A1350Q1P, A1350Q1R, A1350Q1A, A1350Q1RWB and A1350Q1T ). Let's analyze this tripod further in our Mefoto roadtrip travel tripod review.
Price –
Price of Mefoto roadtrip travel tripod is $199 Approx  Get Latest Price!
Buy New

(From $199) :
Buy Used (From $125) :
These are the links from affiliate partners & e-marketers I trust such as Amazon, Aliexpress and Adorama. I have carefully handpicked them after extensive research to get you the best possible deal (lowest price and shipping). Using these links will save you a lot of hassle in search of a reliable source and price comparisons.
Features of MeFOTO Aluminium Roadtrip Travel Tripod –
Tripod Legs : MeFOTO Roadtrip Travel Tripod comes with extendable 5 section twist lock aluminum legs equipped with anti-rotation system. The rubberized locking grips offer not only fast and hassle free setup but also ensure longer life with it's added advantage of weather and dust resistance. For a more versatile usage two leg angle positions on the Mefoto roadtrip travel tripod provide desired flexibility and allow you to shoot in cramped or on irregular surfaces. While I think that aluminum is no match to carbon fiber in terms of portability and durability but Mefoto for this price point in the professional range has really taken care of those issues even while sticking to the traditional aluminum construction.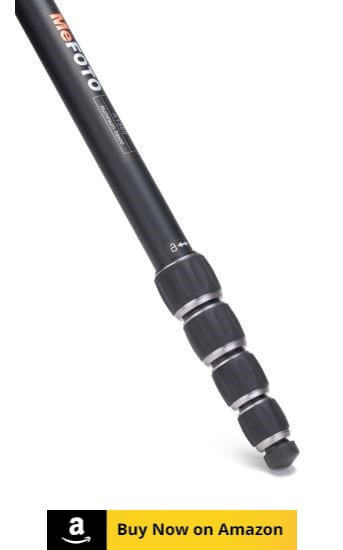 Tripod to Monopod Conversion : The Mefoto roadtrip travel tripod is a two in one setup due to the ability to turn itself in a handy monopod under a minute. Just take out the center post, screw it on one of the leg and you can enjoy the delight of one legged stability.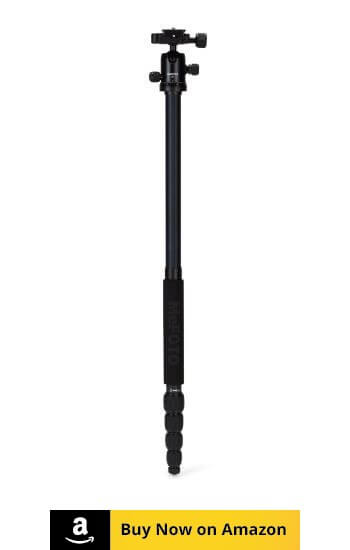 Max. Supported Weight on MeFOTO Roadtrip Tripod : This little guy can confidently hold up-to 8kg or 17.6 lbs. Not only it is ample for most dslr + lens combos but also leaves a little room for you to add some extra speed lights or real time monitors. 
Weight of the mefoto roadtrip travel tripod itself : At 3.6 lbs or 1.6 kg the MeFOTO Roadtrip Tripod gives serious competition even to it's carbon fiber counterparts. This is fairly nominal add on weight to rest of my professional photography luggage. 
Head : MeFOTO Roadtrip Tripod comes with a precision matched Q series good quality ball head. Arca-Swiss style (PU50) quick release plate serves the mounting purpose and the integrated bubble level is there for obvious reasons. There is this separate head and pan lock allowing you to freeze your Dslr at any desired angle or obtain accurate panoramic shots with 360-degree panning (Drag control is also present). In case you are interested the tilt range is -45° / +90°. Moreover the head is replaceable and can be removed to accommodate the head you choice.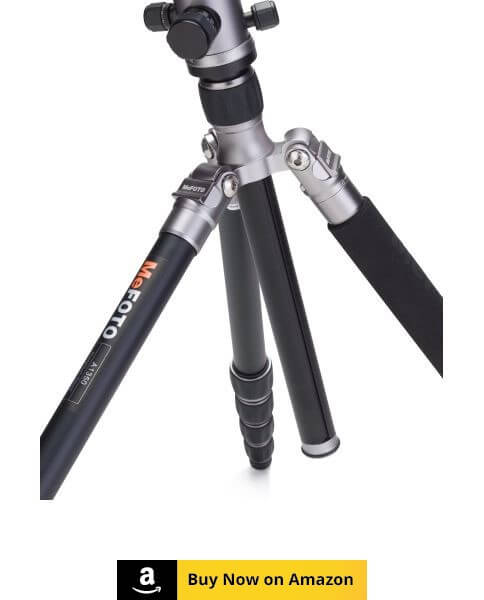 Maximum Height of MeFOTO Roadtrip Tripod : Maximum Operating Height on the Mefoto roadtrip travel tripod is 61.6 Inches or 1565 mm. As with any other tripod the stability will suffer a little bit when fully extended but even at it's maximum height this tripod serves well and stable. I would advice you to hang some extra weight on the hook provided under the center post in case you are using this tripod fully extended.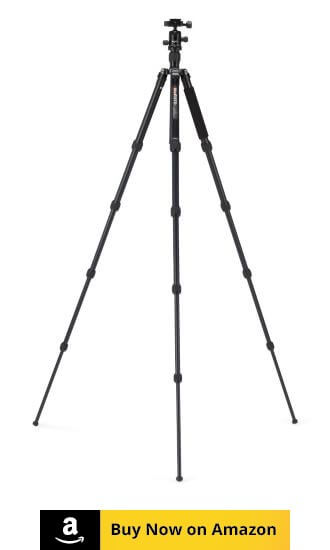 Minimum height when packed : MeFOTO Roadtrip Tripod gets really small measuring just 15.4 Inches or 390mm when collapsed and packed. Squeezing a full sized tripod can never be as easy as it gets with the Mefoto roadtrip.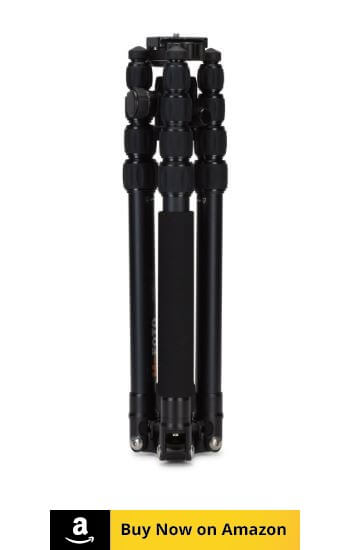 Wide range of colors : Though I was happy with the black, there are 8 different colors (black, gold, green, blue, red or titanium, orange, purple) for you to choose from. They have offered a color for practically everyone. In the series model numbers based on color namely are Mefoto A1350Q1K, A1350Q1B, A1350Q1C, A1350Q1P, A1350Q1R, A1350Q1A, A1350Q1RWB and A1350Q1T.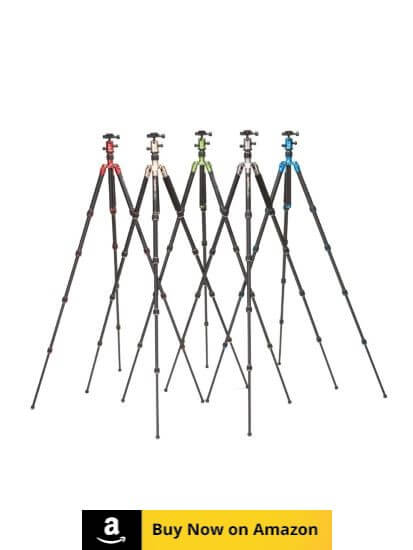 MeFOTO offers a surprising 5 years of warranty for the mefoto roadtrip travel tripod against manufacturing defects.
Pixelarge recommendation –
If I was to summarize this MeFOTO Aluminium Roadtrip Travel Tripod Kit Review as pros and cons it would be
+ Pros :
– Cons :

Very Sturdy and Durable Aluminium Build.

Lightweight and compact in terms of size.

Replaceable Mounting Head.

Legs are custom adjustable at various angles for an extremely versatile shooting experience.

Mefoto can be easily transformed into a handy monopod.

Can handle 8kg of maximum weight.

fluid and smooth panning control.

5-years of promising manufacturer warranty

.

Spike posts are not integrated and one has to remove the rubbers feet to accommodate them.

Drag control knob is virtually vestigial.

Carry bag adds an additional 1/2 lb to the package.
So would I recommend the Mefoto roadtrip travel tripod ?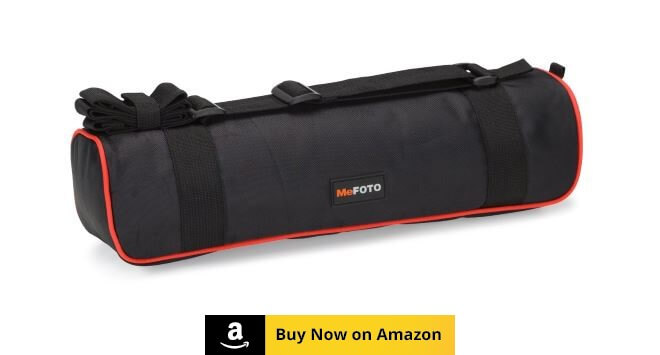 Certainly I do. As I already mentioned that I am more of a carbon fiber fan but this tripod absolutely leaves no room for complain. If you want some extra maximum height you can check out the Manfrotto MK294A3-A0RC2 294 Aluminum Tripod Kit or the smaller yet equally good Manfrotto MKBFRA4-BH BeFree tripod in approximately same price range. If you wish to go for inexpensive aluminum ones then MeFOTO Backpacker Travel Tripod Kit, Dolica Proline AX620B100, AFAITH Q-999, Ravelli APGL5 and Zomei Z669 are the ones to explore. But again it's my responsibility to remind you that if you are a professional photographer seeking compact and sturdy feet for your camera look no further than the MeFOTO Roadtrip Travel Tripod.
MeFOTO Roadtrip Tripod Ratings :
4.5
Recommended as Professional Aluminium Tripod