To Read an updated version of this article Click Here..
Right now the market is flooded with a hell lot of photography gear and accessories, hence it is not impossible to get drowned in the confusion that comes along with the availability of so many choices. Now to save you a little bit of trouble, I am here with compilation of some decent or as the title says "Top 10 Best Tripods with head under 100 bucks".  So let's get started with the number 10th on our list-
10. Slik Pro 330DX Tripod With Head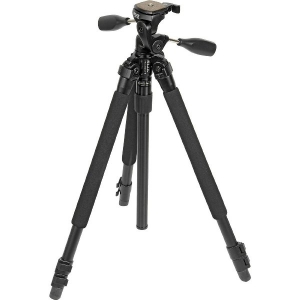 Price :
$89.99 Approx   Get Latest Price!
Slik holds the reputation for being one of the most affordable supplier of photography goods and the same has been justified with Slik's Pro 330DX tripod with head. To give you a fair idea I have summarized everything in pros and cons format and we are gonna take a look at the qualities first.
Pros :
Excellent Value for money.
Very light weight and Compact.
SLIK pro 330dx is made up of patented AMT alloy that offers exceptional strength to weight ratio which on average is over 40% higher than similar tripods.
The operation is pretty easy due to the snappy lock knobs and clever design.
Releasing the locking ring in the center column allows free movement of the central column in both vertical and horizontal direction.
Legs can be adjusted to three different angles to give you ability to adjust the Slik on uneven surfaces.
The upper leg section's diameter is 26.8mm making it rock solid and stable.
Cons :
Head is not good enough for heavy cameras.
Nothing Significant in particular.
9. Benro A-150EXU Digital Tripod Kit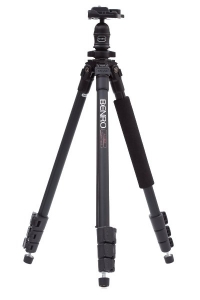 Price :
$66.99 Approx    Check Latest Price!
Pros :
Three angles leg position on Benro A-150EXU allows quick adjustment of the height and also provides you the ability to take low level shots.
A standard wing nut locking ring mechanism in the center column offers added strength and ease of use.
Thick layer of closed cell rubber (nitrile butadiene) grip provides a neat and comfortable yet firm grip on legs.
Benro's Precision bearings paired with bubble level make you able to adjust camera placement with single action.
The four Fast Lock aluminum sections on Benro A-150EXU tripod allow quick setup and packing.
Benro comes with an over sized Camera plate coupled with a double locking quick release system for security and stability.
Rubber feet on this tripod retract to expose the underneath steel tips to ensure your tripod feels solid in almost all terrains.
Cons :
Light weight sacrifices a little bit on stability.
Some lubricant leaking has been observed in Joints.
8. AFAITH Professional SLR Camera Tripod Monopod & Ball Head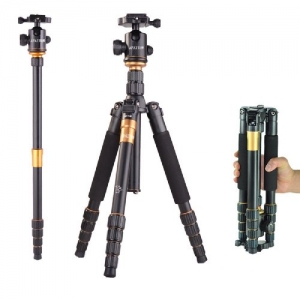 Price :
$95.99 Approx    Find Latest Price!
Pros :
Funky Design.
Two in one setup. You get a nice tripod with ballhead and a monopod in one package.
It's a deal for the price it comes.
Dual Hydraulic level and three knobs design PTZ.
Pull-out button adjustment for angling the Afaith Tipod ensures single handed adjustment of each leg.
The design offers damping effect depending on the overall weight of your camera and lens.
5-section center column allows almost ground level shooting height.
The legs on the Afaith Tripod with ballhead has a quick locking mechanism.
Cons :
It's a new Chinese Brand and is not very widely known and tested.
Price seems too good to be true for the features.
7. Polaroid Studio Series 64″ Professional Tripod With Ultra Smooth Pan/Tilt Head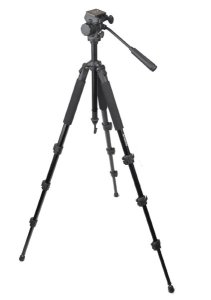 Price :
$64.99 Approx    See Latest Price!
Pros :
Polaroid Studio Series tripod offer a 64 inch of working height.
It has a Extremely stable mounting system.
The Pan / Tilt Head has a smooth action.
It offers Quick Lock Camera Platform and a detachable center column with hook to add weight.
The Polaroid Studio Series professional tripod itself weighs only 4.4 lbs and can hold a maximum of 8 pounds.
Upper leg sections are padded with foam.
Additional quick release plate is supplied.
Rubber tipped legs with retractable spikes are there.
Exclusive double bubble levels for super precision
4 Section, fully adjustable legs with Auto Mechanism offer easy height adjustments on this tripod.
Cons :
The center column has a not so strong connection with the mounting plate.
Can't handle Dslrs with big lenses.
6. Xit XT80TRPRO Elite Professional 80-Inch 4 Leg Section Tripod
Price :
$61.99 Approx    Get Latest Price!
Pros :
Its an affordable Tripod.
Xit XT80 Tripod extends to a maximum of 80 inches.
This tripod offer a pretty low Level and Close Up Shooting ability.
Foam Grips are there on all three legs for comfort and aesthetics.
Stabilizing Hook is there on the center column to handle extra weight.
2 Bubble Levels are present on the head to ensure precise adjustment on uneven surfaces.
This tripod is durable and easy to use.
Cons :
Some parts are flimsy and do not feel very sturdy.
The thumb latch screw has been reported being loose on arrival.
You pretty much get what you pay for.
5. Slik Sprint Pro II Tripod in Gun Metal With Quick Release Ball Head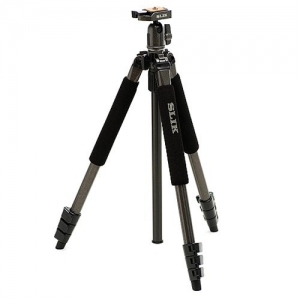 Price :
$89.99 Approx    Check Latest Price!
Pros :
New ball head SBH-100DQ with supplied quick release system makes Slik sprint pro 2 an ideal choice for all kind of photographers.
The legs are divided in 4 sections for compactness and make this tripod easy to travel with due to its collapsed height only being 18.5 inch.
SLIK's Quick-Release leg locks for fast adjustment and packing.
All three Legs are padded.
Very studry design and construction.
Cons :
Seems a little bit over priced.
4. AmazonBasics 70-Inch Pistol Grip Tripod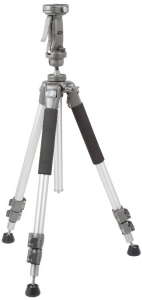 Price :
$64.99 Approx    Find Latest Price!
Pros :
Quick release camera plate is supplied with Amazon basics tripod.
leg locks are easy to adjust and built in level helps to get even on any kind of surface.
Rubber enclosed spiked feet.
This tripod's maximum weight holding capability is 11 pounds.
Pistol grip design allows almost any position virtually, including the impossible looking 90 degree angles.
Cons :
This tripod itself is very Heavy and bulky.
Not a very portable tripod.
Read the  Full review for the amazon basics here.
3. Ravelli APGL4 New Professional 70″ Tripod with Adjustable Pistol Grip Head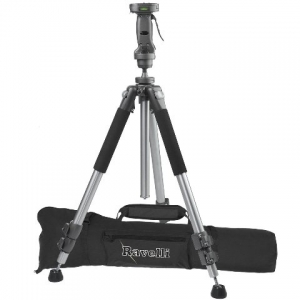 Price :
$65.99 Approx    Get Latest Price!
Pros :
The same as the Amazon Basics 70 inch tripod.
Very sturdy and solid construction.
Fairly stable and inexpensive for the price it is being offered.
Cons :
Heavy and Bulky.
Not an ideal choice for taking along hiking.
Read the Full Review for Ravelli APGL4 here.
2. Davis & Sanford MAGNUMXG Magnum Grounder Tripod with 3-Way Fluid Pan Head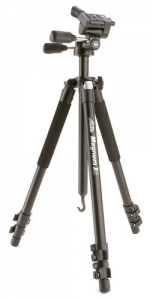 Price :
$99.99 Approx    Check Latest Price!
Although this a fairly new tripod and has to be tested a little further to qualify as a reliable option. Still Davis and Sanford Magnum Grounder Tripod is promising enough to be the runner up on my list of  "Top 10 Best Tripods With Head Under $100" for the month of December in 2014 at the time of writing of this review.
Pros :
Its a medium weight tripod with extremely rugged build for a very affordable price tag.
This tripod extends up to a maximum height of 6 feet, which is sufficient for most people.
The Load capacity is 15 pounds, which is again ample for most users.
The Davis & Sanford Magnum Grounder Tripod comes with extra strong body and legs
3-way Fluid head is there for smooth movement.
There are Built-in bubble levels for precise adjustments.
Bag is included with this tripod.
Cons :
The head is fluid but not as much to support professional grade video recording.
Nothing else.
1. Dolica AX600B250 60-Inch Aluminum Alloy Proline Traveler Edition Tripod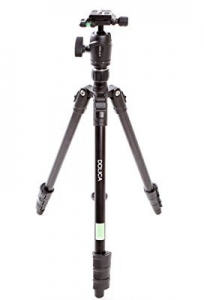 Price :
$99.99 Approx    Find Latest Price!
I am not going to call it a winner but in my opinion Dolica AX600B250 tripod seems to be a balanced choice in the $100 bracket. Rest you can decide for you own self after comparing the pros and cons of all the above mentioned tripods.
Pros :
Value for money tripod.
Professional grade Solid and durable construction.
The Working Height for Dolica AX600B250 tripod as evident by the title is 60 inches.
Center Column is removable and can be reversed for low angles shots.
The high performance ball head on this tripod is removable and can be replaced with something of your choice.
You get a panoramic movement of horizontal 360 degree and vertical 90 degree.
Padded nylon case to carry along this tripod and a padded Toolkit is supplied in the package.
Cons :
Some people have faced customer support issues with Dolica.
Nothing else.
Honorable Mentions :

Ratings: Dolica AX600B250