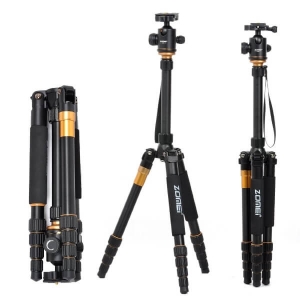 Price –
Price of Zomei Z669 Tripod is $105 Approx  Get Latest Price!
These are the links from affiliate partners & e-marketers I trust – Amazon , Flipkart (India) and Adorama. I have carefully handpicked them after extensive research to get you the best possible deal (lowest price and shipping). Using these links will save you a lot of hassle in search of a reliable source and price comparisons.
Prologue –
Zomei Z669 Tripod is completely identical to it's carbon fiber counterpart Zomei Z669c (Read full review here). Z669c is much more lighter and sturdier than the magnesium aluminium  construction Z669. I would recommend you to take a look at Z669c if you could spare extra $50. Otherwise you can certainly buy the Zomei Z669 without thinking twice, not only it a great deal for it's price tag also the quality and construction is far better than other magnesium aluminium tripods in the market. Let's take a more detailed look at Zomei Z669 Tripod.
Features of Zomei Z669 Tripod –
Tripod Legs : Zomei Z669 magnesium aluminium tripod has got really solid 3-Segment Interlocking tube Type Legs. The legs are sturdy and do not flex easily under pressure. In my tests the legs performed competently and even fully extended the tubes maintain a stable posture. Push button-locks help you to get the legs adjusted at various angles independently. Locking-unlocking action is fairly easy and does not takes much time. You can get yourself ready to shoot with this tripod under a minute. Unlike Zomei Z669c this tripod is not corrosion resistant so that is something you must keep in mind while shooting outdoor specially in rain or on a beach.

Tripod to Monopod Conversion : The center post of Zomei Z669 can be disassembled and screwed on one of the legs to covert this tripod into a monopod. It's cool to have such convertibility feature that saves you some extra bucks. 
Max. Supported Weight on Zomei Z669 Tripod : Zomei confidently claims that you can easily mount this tripod with up-to 33 lbs or 15 kg of camera bulk. For most Dslr and lens combinations 15 kg is a way too much room. Legs and head being of optimum quality can be trusted to do justice with zomei's claim.
Weight of the Zomei Z669 Tripod itself : Zomei Z669 tripod is quite light at 3.19 lbs or 1.45 Kg. If weight is something you care for then go with Zomei Z669c, carbon fiber construction offers it minor edge over this one. Nevertheless Zomei Z669 is easy to carry around all day long. 
Head : The supplied QZSD-06 Ball Head is fine if not perfect. It does what it is supposed and it would be irrational to expect more at this price point. The head locks tightly in place and bubble levels help you keep the alignment balanced. It's not a video head hence no smooth pan and tilt.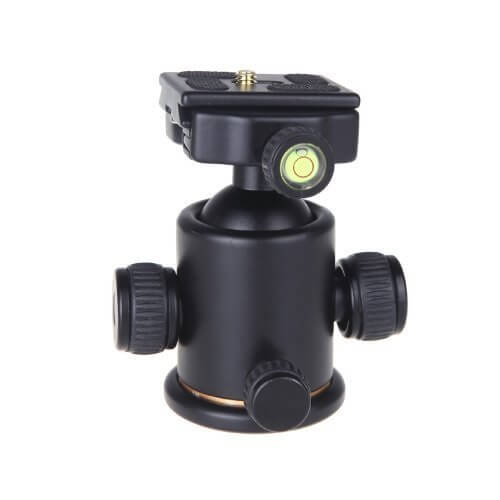 Maximum Height of Zomei Z669 Tripod : Maximum Operating Height on Zomei Z669 tripod is 1560 mm or 61.4″ / 5.14 feet. Maximum height is sufficient for most people out there. You can use this tripod fully extended and the little extra room on maximum weight do allows you to add sand bags on the axial hook for added firmness and stability.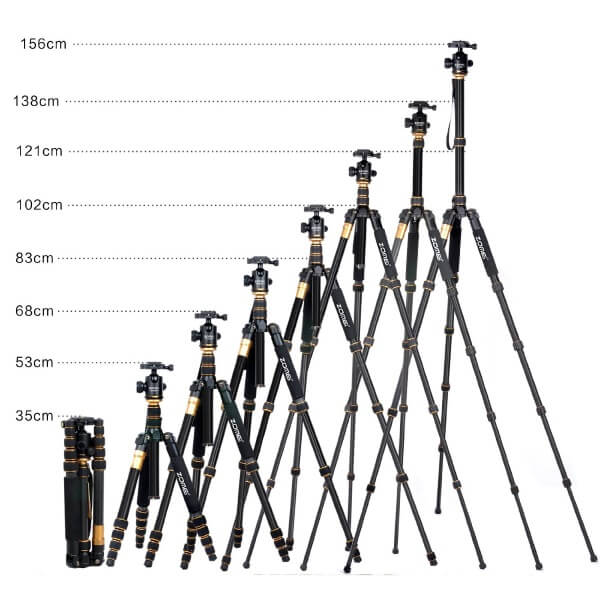 Minimum height when packed : Zomei Z669 tripod gets really small at just 350 mm or almost 13 inches when packed. So you can fit it almost anywhere. Backpack side pockets are perfect place to slip the Z669.
Zomei offers a surprising 2 years of warranty for all it's tripods against manufacturing defects.
Buy Zomei Z669 Magnesium Aluminium Tripod even Cheaper from Aliexpress Here…
Pixelarge recommendation –
If I was to summarize this Zomei Z669 Portable Magnesium Aluminium Tripod Monopod Kit Review as pros and cons it would be
+ Pros :
– Cons :

Very Sturdy and Durable Magnesium Aluminium Build.

Decently lightweight and compact.

You can adjust the legs independently at multiple angles for more customized shooting experience.

Can be easily turned into a monopod.

Supports 15kg of maximum mounted weight.

A quality nylon bag is supplied in the package.

2-years manufacturer warranty against manufacturing defects.

Ball-head is mediocre

Pan is not smooth.

Retractable spikes on feet are missing.
So would I recommend the Zomei Z669 Magnesium Aluminium Tripod ?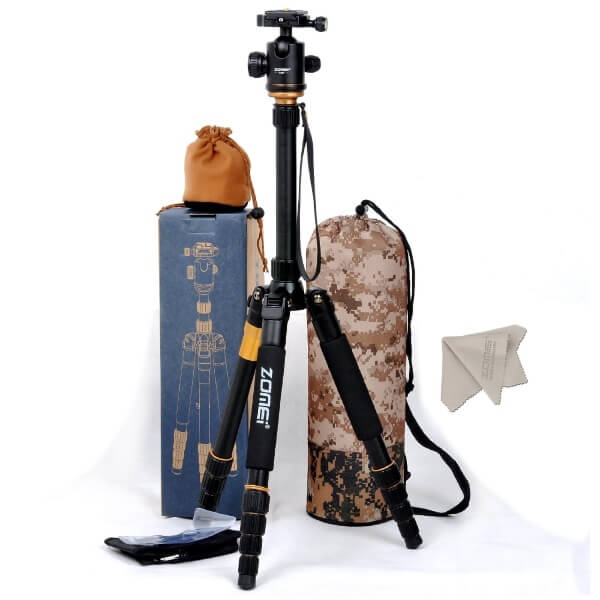 While I am more into love with the little expensive Zomei Z669c a professional grade carbon fiber tripod at a very appealing price tag, I don't see any harm in picking the Zomei Z669 magnesium aluminium version of the same. This tripod has the qualities a beginner photography enthusiast might ever desire from a tripod and that too in a budget. You can also buy ZOMEi Q666C  for $30 more or the AFAITH Q-666C. According to Zomei the Q666C supports 13 kg of maximum mounted load which is just 2 kg less than Z669c and Z669. So go ahead and pick one that complements your needs and your pockets.
Zomei Z669 Tripod Ratings :
4.5
Recommended Magnesium Aluminium Tripod