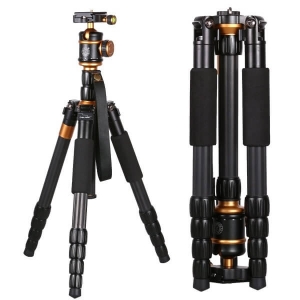 Price –
Price of AFAITH Q-999C Tripod is $135 Approx  Get Latest Price!
These are the links from affiliate partners & e-marketers I trust – Amazon , Flipkart (India) and Adorama. I have carefully handpicked them after extensive research to get you the best possible deal (lowest price and shipping). Using these links will save you a lot of hassle in search of a reliable source and price comparisons.
Prologue –
Afaith is flooding the market with so many identical tripods with little or no differences except the model number that not only it is difficult for the buyer to distinguish but also it is next to impossible for reviewer like me to present a clear picture or a refined conclusion. Today we are going to examine the AFAITH Q-999C, around $135 this tripod can be squeezed into our budget section. It is fairly compact but not as much as the little expensive Q-666c and boasts carbon fiber construction. AFAITH Q-999C is an ideal choice for beginners struggling with their budget. At this price tag, you just can't go wrong. Even professional photography guys can give AFAITH Q-999C a try as their secondary backup tripod. Let's take a more in depth look at this Portable Carbon fiber Tripod + Monopod Kit + Ball Head setup.
Features of AFAITH Q-999C Carbon Fiber Tripod –
Tripod Legs : AFAITH Q-999C carbon fiber tripod has 5-Section Interlocking high-density carbon fiber tube type legs. If Afaith is to be believed, they are using eight layered various angled carbon fibers sheets equipped with high temperature and pressure strengthened polymeric tubes to create this tripod. The promises stood well in my own rigorous reviewing where this tripod shouldered hell of an abuse before giving up. To add more, you would be pleased to know that AFAITH Q-999C carbon fiber tripod is water, dust, heat and corrosion resistant. You can setup this tripod for it's intended use within a matter of seconds due to the smooth and intuitive locking mechanism.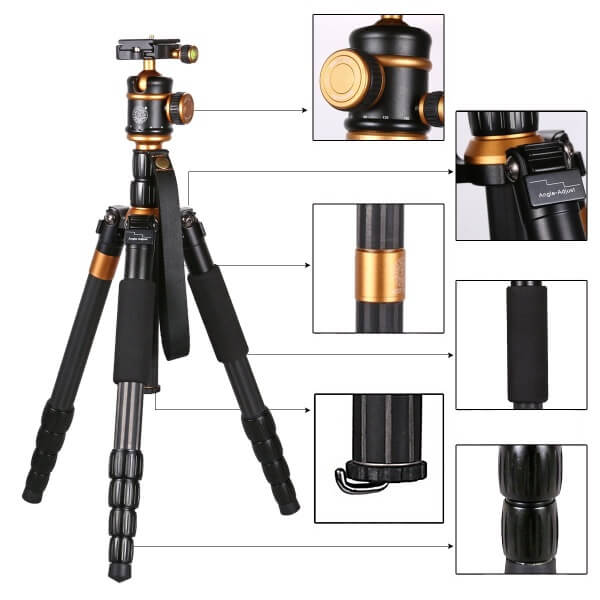 Tripod to Monopod Conversion : Afaith Q-999C carbon fiber tripod also happen to serve you as a very reliable monopod. You merely need to take apart the central axis to screw it over one of the legs and you have monopod instead of a tripod.
Supported Maximum Weight : You can put up-to 33 lbs or 15 kg load on this tripod as per Afaith's specifications on the box. The legs appear solid and carbon fiber construction is reassuring that you can load your Dslr with moderately heavy lens on this tripod without any concerns.
Weight of Afaith Q-999C Tripod itself : AFAITH Q-999C tripod is rather light at 3 lbs or 1.32 Kg which makes it convenient to carry around and a pleasure to have in your backpack on hiking tours.
Head : The included head will do it's job to a certain satisfactory extent. You certainly can't expect any exceptional head for this price tag, even the legs are more than what you are already paying for. Since the head is replaceable you can any day upgrade to a better one.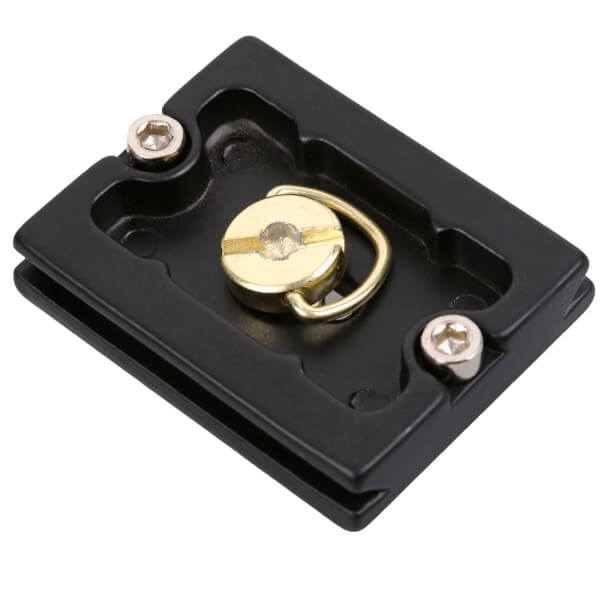 Maximum Height on AFAITH Q-999C Tripod: Maximum Operating Height on AFAITH Q-999C tripod is 1580 mm or 62.2 inches and sufficient even for the taller folks. In case you are using this tripod fully extended, I would recommend you to add some extra weight (a sand bag/water-bottle) on the hook under the axial column for added stability.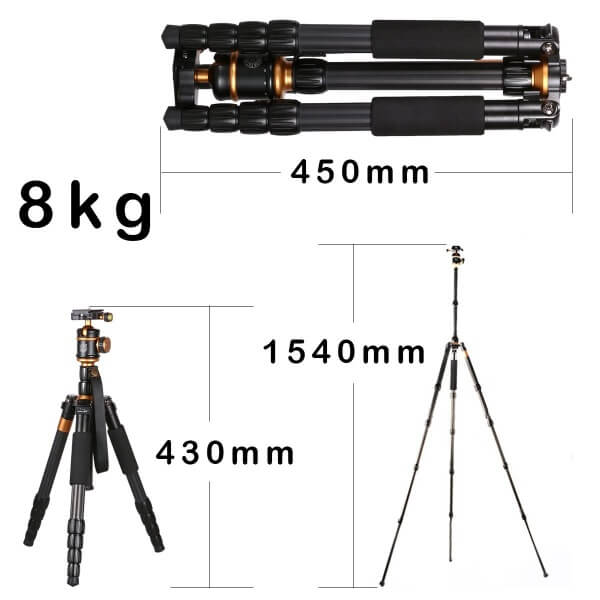 Minimum height when packed : AFAITH Q-999C tripod is merely 450 mm / 17.7 ins (1.47 Foot) when collapsed. It's a simple fit in nearly every space and it is one less thing that you should be concerned about when packing this little friend.
Minimum height while shooting : With the axial column mounted in reverse position, you may take the Afaith Q-999C almost on the floor level. A useful little feature for individuals willing to get into macro and product photography.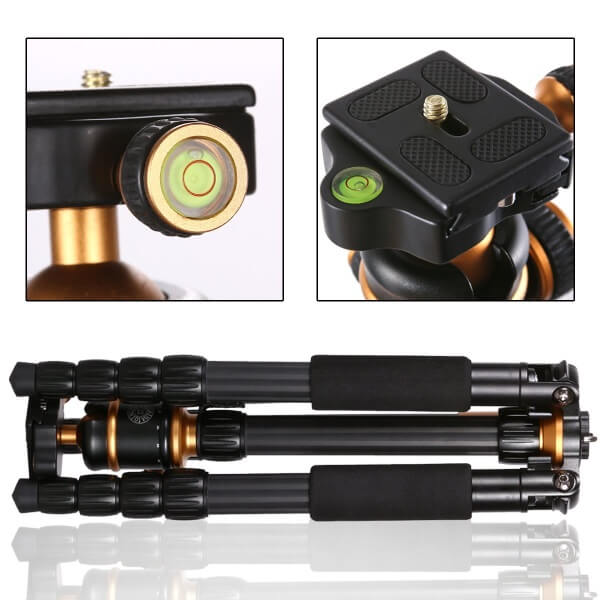 Pixelarge recommendation –
If I was to summarize this AFAITH Q-999C Portable Carbon Fiber Tripod Monopod Kit Review as pros and cons it would be
+ Pros :
– Cons :

Carbon Fiber Construction for this price.

AFAITH Q-999C is lightweight and compact.

Independently adjustable legs at various angles.

Convertible into a monopod.

15 Kg of maximum mounted weight supported.

Bubble levels for proper alignment.

Inexpensive.

Mediocre okay kind of Ball-head.

No retractable spikes.

Not the most compact tripod from Afaith at 450 mm.
So would I recommend the AFAITH Q-999C Portable Carbon Fiber Tripod ?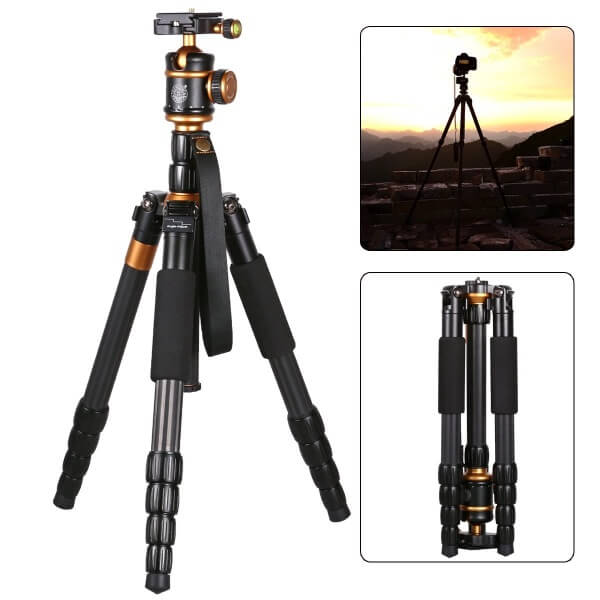 YES,  AFAITH Q-999C is an exceptionally nicer deal over the other expensive tripods in the market if you are just getting started with photography. Afaith is offering a carbon fiber tripod at an unbelievable price point. You can try a little expensive ZOMEi Z669C or Afaith Q-666c. Both Afaith and Zomie are identical to each other and one cannot go wrong with either of them in this price bracket. So go ahead and get one now with my special discount link given below.
AFAITH Q-999C Tripod Ratings :
4.3
Good Inexpensive Carbon Fiber Tripod