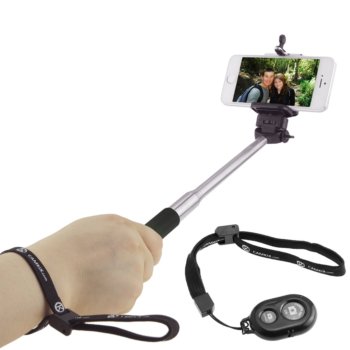 Price –
Around $24   Get Latest Price!
These are the links from affiliate partners & e-marketers I trust – Amazon , Flipkart (India) and Adorama. I have carefully handpicked them after extensive research to get you the best possible deal (lowest price and shipping). Using these links will save you a lot of hassle in search of a reliable source and price comparisons.
Prologue –
Selfie sticks are the new hip thing in the market (Like the selfie trend itself was not enough). This self obsessional trend of taking selfies has attracted quite an attention of accessory manufacturers lately. Following the footsteps of cell phone makers, brands like Camkix also want to grab a big pie of the emerging selfie market. Somehow I was not surprised when I got to know about selfie sticks and after getting my hands on the camkix one I was pretty amused too. CamKix Extendable Selfie Stick/handheld monopod with it's Bluetooth Remote is a nifty little accessory that allows you to take selfies that include wider area, gives a much better perspective, minimizes the visibility of typical cell phone camera lens distortion and please you with a much more natural looking photograph. Also it helps you to include a lot of friends in your group selfies for obvious reasons. Many of the finer details will be discussed in this review later on, but for now you can take my vote in favor of this handy little tool.
Features and What I think about them –
Light and Compact Design – The portable form factor of CamKix Extendable Selfie Stick is not only ideal for a spontaneous selfie but also allow you to squeeze it easily in your handbag (I believe females would be more inclined towards buying this thing) being only 11 inches long when retracted.
Adjustable Length – extending from 11 inches to a whooping 40 inches, length of the CamKix selfie stick is variable enough to get the perfect shot. While you can use the short length to take intimate shots, the longer length allows you to cram in more people or wider background.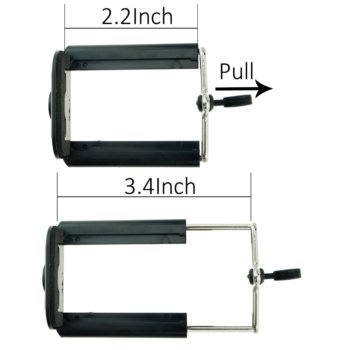 Universal Cell Phone Holder – You can use the universal phone holder on the camkix to fit almost any kind of cellphone device that is up to 3.25 inches in width.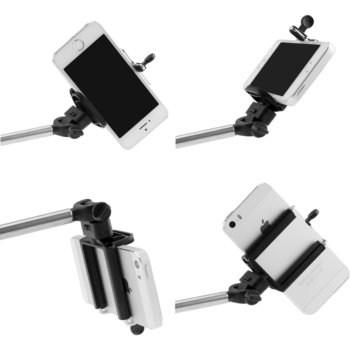 180 Degree Adjustable Head – Camkix seems to have given some thought while designing their selfie stick which is reflected in it's features, such as the mount can be positioned in any direction through a 180 degree arc. It allowing you to adjust and adapt for various shooting scenarios.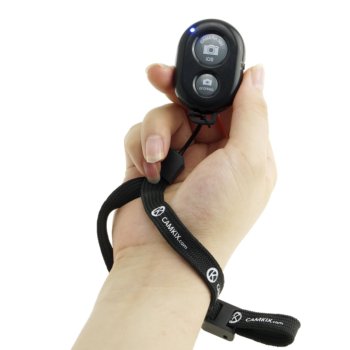 Included Bluetooth Remote works for Apple and Android Devices – With Camkix selfie stick and the supplied bluetooth remote control there is absolutely no need to set up a timer and rush your selfie set-up. The remote allows you to take the photograph whenever you are ready. The remote connects easily with Bluetooth 3.0 (and latter) compatible devices such as the Apple IOS and Android 4.2.2 or newer. Unfortunately for now no other OS is supported (Sorry Windows, Java and Symbian users). While full instructions are included in the package, some Android users might have to download the free "Camera 360" app from the Google Play store to have the Camkix Bluetooth remote working.
 Some other Cool Features !
Availability of Colors –  With black, green and hot pink variant (for females, told you) available on the amazon, there is a color for every one.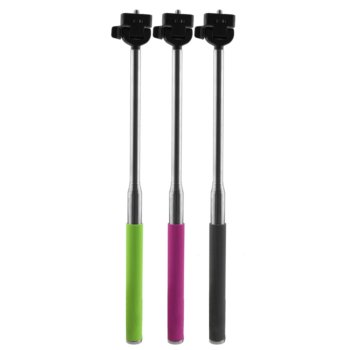 Wrist Strap – The supplied adjustable safety strap to grip your wrist is a nice add-on on the Camkix selfie stick.
Pixelarge recommendation –
If I was to summarize the review for CamKix Extendable Selfie Stick & Bluetooth Remote as pros and cons it would be
Pros: 
Doesn't feels flimsy on full extension.

Universal phone holder.

Nice chrome finish.

Safety wrist strap.

Cheap, reliable and stable.

Better than most other Chinese brands.
Cons: 
Remote doesn't work on phones other than Android and Apple.

Not the best construction and finishing in the segment.
So would I recommend the Camkix Selfie Stick/handheld MonoPod ?
I would say this whole selfie stick thing is a pretty interesting concept. If you can afford to add a few detachable lenses for your cell-phone camera in the arsenal, you can have a pretty nice and handy setup to take great pictures in a budget. While the the selfie sticks have a very limited practicality, if you are really into the selfie business the Camkix selfie stick with the supplied bluetooth remote control can prove to be a useful tool. Since the price is sweet and construction is reliable, you should definitely go and get this gadget. Not only it will help you gather great photographs but a lot of attention as well.
Ratings for Camkix Selfie Stick & Bluetooth Remote