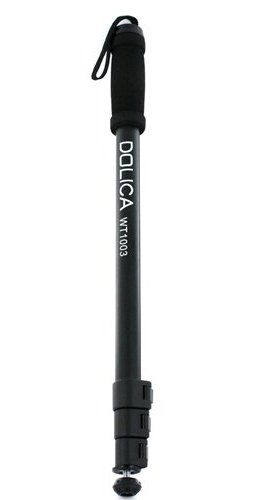 Price –
Around $14.99    Get Latest Price!
These are the links from affiliate partners & e-marketers I trust – Amazon , Flipkart (India) and Adorama. I have carefully handpicked them after extensive research to get you the best possible deal (lowest price and shipping). Using these links will save you a lot of hassle in search of a reliable source and price comparisons.
Prologue –
If you are on a budget, looking for a affordable yet sturdy Monopod, Dolica WT-1003 is as cheap as it gets. It comes with a very attractive $14 price tag and surprisingly sturdy aluminium construction. Dolica is a very basic monopod and offers a great deal of portability for your buck. That being said, you must know that you pretty much get what you pay for, and same goes with the Dolica 67-Inch Lightweight Monopod. Though it can stand a fair amount of abuse yet it comes with it's own limitations. But first lets start with the amazing features this monopod has to offer.

Features and What I think about them –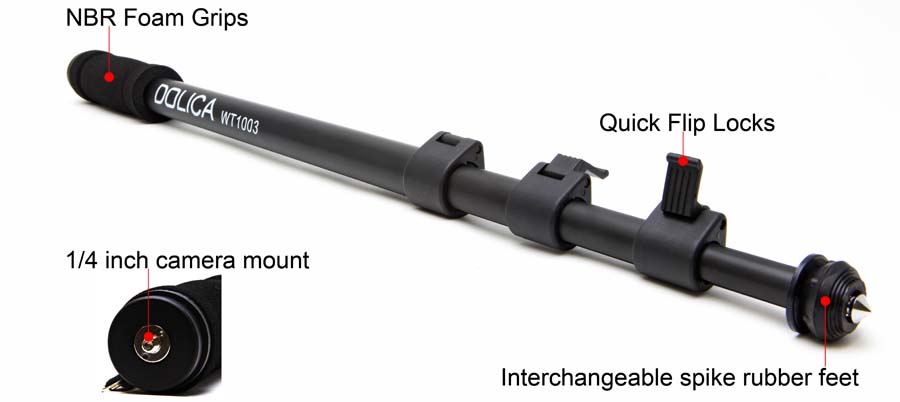 Length –  67″ tall fully extended & 21 ¼" long fully-collapsed. As you can see the extended length is fairly adequate even for a tall guy like me, also the collapsed sized is small enough to fit into most backpacks and travel suitcases.
Lighweight Aluminum Construction for Easy Mobility –  weighing just about 14 oz or 396 grams, for a full sized tripod, Dolica is fairly lightweight and easy to carry around.
Mounting Head – The head on this monopod is oddly designed. There is this free wheeling plastic collar around the 1/4″ thread and the small metal stem. The freewheeling action is there to prevent your camera base from getting scratched, though I have seen people getting confused into thinking that the freewheeling collar is there to screw the threads (for attaching and detaching the camera) and failing to achieve the same, often this monopod is taken as broken on arrival. You must know that you need to twist the monopod itself and not the plastic collar to mount your cameras.
Lanyard – Can be used to hang your monopod on a hook and that's pretty much it.
Foam Grip – The grip does what it says. Good grip and cushioning.
Body and Thumb Locks – Channels on the body restricts the undesired rotation. Thumb locks though being quick and snappy looked flimsy to me. Unlike the more conventional twist to lock design there is nothing you can do on this monopod once a lock fails.
Retractable spike Rubber Feet – Nice enough to hold it steady on rocks, sand and snow.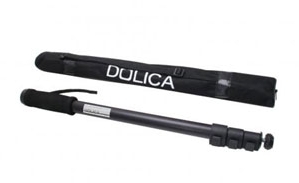 Pixelarge recommendation –
If I was to summarize this review as pros and cons it would be
Pros: 
Very Sturdy and Durable Build,

Easy to use

Spike Rubber feet

Foam Grip

Inexpensive
The Monopod comes with a carry case which manages to serve the purpose.
Cons: 
Flimsy thumb knobs

Fragile Metal Stem (Don't mount heavy cameras)
So would I recommend this MonoPod?
There is nothing fancy about reading a 1000 word review for a $14 monopod. My  verdict is, if you are in the market looking for a serious amateur monopod, just go for  the Dolica WT-1003 67-Inch Lightweight Monopod without hesitation.
Other than very slight variation in the grip, the Dolica is totally identical to the cheaper Vivitar VIV-VT-67 67-Inch Monopod and the AmazonBasics 67-Inch Monopod. Also the Opteka MP100 67″ Professional Heavy Duty Photo / Video Monopod is absolutely the same product as the dolica and looks like made in the same factory, difference being just the brand name.