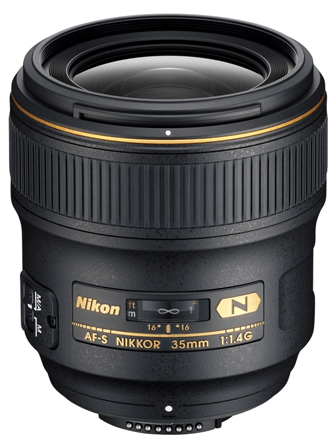 Price –
Around $1600
Buy Used : Amazon , Amazon(Refurbished) , Adorama
These are the links from affiliate partners & e-marketers I trust – Amazon , Flipkart (India) and Adorama. I have carefully handpicked them after extensive research to get you the best possible deal (lowest price and shipping). Using these links will save you a lot of hassle in search of a reliable source and price comparisons.
Prologue-
Finally after good forty years, the manual 35 mm f/1.4 AI-S made way for the Auto Focus lens with reduced coma. Available since September 2010, Nikon 35mm f/1.4 G AF was taken with much appreciation because its sheer absence was felt rather strongly by the Nikon community.
Over the years since its introduction, I have seen people using this lens for wedding photography and photojournalism as a staple.
This lens is great for enhanced depth of field and can be used for landscapes, portraits, night photography and Astro-night outs with equal ease.
I think this lens performs apt for what price Nikon asks for it and also for how much time they have taken to give us a AF 35 f/1.4. It shoots delicious pictures wide open and stopped down with fantastic sharpness but so does the 24 mm f/1.4 G (with even better optical performance and reduced limitations for a little more price). After shooting and comparing between both of these, I choose to keep the 24 mm f/1.4 G in my arsenal.
If such wide aperture is not the requirement then the 35 mm f/2 is also a decent piece of AF glass covering the FX and DX format camera equally. If the mechanical quality can be compromised a little then sigma 35 mm f/1.4 art series is a worthy competitor in terms of optical performance.
If I wanted just one prime, this would be that lens for its all purpose usage.


Specifications-
Focal length
The 35mm focal length of this lens is most useful one on DX and FX format cameras equally.
On FX format camera, it acts as a moderate wide angle glass. On DX format camera it gives the popular 50 mm field of view. Since it is a FX lens it gives just the sweet spot of the centre on crop sensor, and hence you see the best this lens can offer.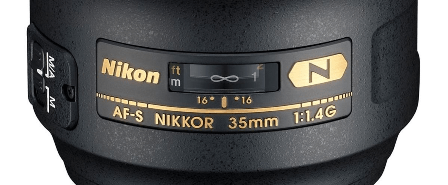 Aperture
The maximum wide aperture of f/1.4 allows amazing low light pictures. I was able to get very cheesy "bokeh effect" where the subject is isolated from background by blurring the backdrop and foreground.
The minimum aperture goes down to f/16.
Diaphragm
There are nine rounded diaphragm blades. I find it helpful in giving creamy appearance to out-of-focus objects in picture.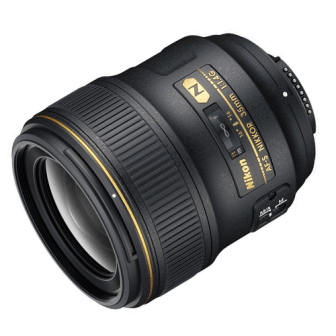 Barrel and rings
The outer body is made of plastic, for me this is a disappointment for Nikon 35mm f/1.4 G AF being a pro lens.  The barrel is a curvy babe. The focus ring is the only ring present on the front. It gives instant manual focus even in AF. It is my favourite feature in the modern day lenses; the ease of control is addictive.
The switch for manual and auto cum manual is handy. (Switch marked M and M/A).
There is a miniscule distance scale which is not really useful.
Mount
It predictably has a metal mount in this lens which gives sustainability to the lens especially for the people who indulge in changing lenses all the time. It survives rigorously long duration of wear and tear process.

Filter thread
This lens has an unusual filter size of screw-on 67 mm. I used it with a step-up ring to get the normal 77 mm filter size.
Hood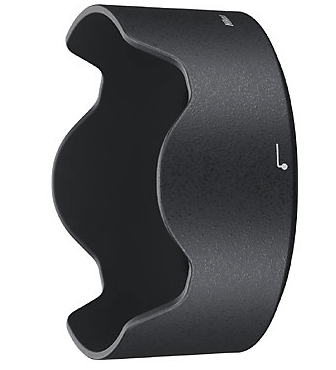 It comes supplied with Bayonet Hood HB-59. I found it working fine although i don't use it most of the time.
Lens construction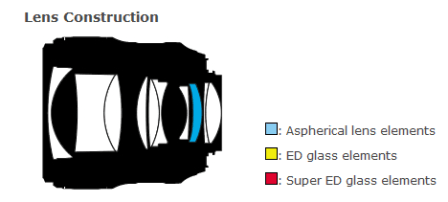 This lens is made of 10 elements in 7 groups with one aspherical lens element. The Aspherical lens element reduces lens aberration and gives better resolution even at widest aperture. Lens is equipped with Nano crystal coating for internal flare and ghost control.
I always find the dust and weather sealing good to have.
Size and weight
Nikon 35mm f/1.4 G AF stretches 3.3 inches or 83 mm in diameter and 3.5 inches or 89.5 mm in length.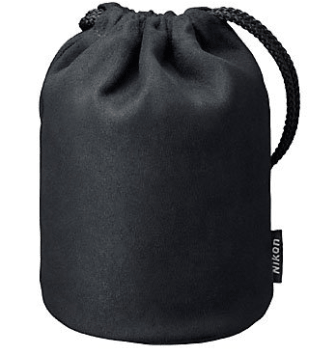 This lens weighs approximately 600 grams or 21.2 oz.


Performance-
Focus
The close focus is 0.3 m/0.98 ft. It is fairly close for me.
AF is very accurate and sufficiently fast. With the silent wave motor, the auto focus is somewhat less noisy but I would have appreciated more on this.
Manual focus is very easy anytime with broad focus ring and its smooth movement. I liked how the focus was just right during shooting portraits without time lag.
Sharpness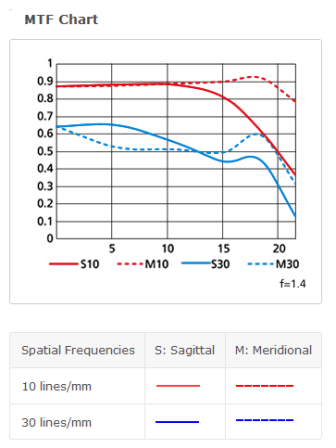 Images shot even at wide aperture are sharp especially so in the centre. The skin tones in portraits are natural and the out of focus elements are not overtly high contrast.
I have seen sharpness improve a little at f/4 and beyond till f/11.
Distortion
There is slight to moderate amount of barrel distortion which becomes apparent on shooting straight lines at close distance. My 24 mm f/1.4 shows less distortion in spite of being of lower focal length. I believe this will not bother anyone except a person into photographing architectures. Others can simply fix this distortion in post processing.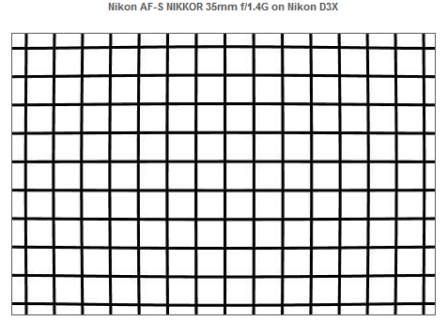 #Straight grid as seen by camera
Chromatic aberration
I encountered more chromatic aberration than what I should have on such an expensive lens. This is one limitation which i would have happily done with on a cheap piece of optics but to compromise over this in this pricey lens is asking too much of me.
There is magenta fringing in foreground and green fringing in background of high color contrast objects at aperture wide open (known as longitudinal chromatic aberration). I understand that this is a standing feature of all fast wide lenses.
This longitudinal chromatic aberration can be corrected in post processing on the Nikon software easily or to some extent in the camera itself. But I shouldn't have to do that with a glass like this. The Nikkor 24 f/1.4 G has ED glass to combat this issue, why this lens doesn't have it is beyond my comprehension.
Flares and ghosting
Nikon 35mm f/1.4 G AF lens wins brownie points in remarkable flare and ghost elimination in random usage. These are visible only when you would anyway expect ghosting like when shooting directly the sun.
Pixelarge Recommendation-
There are a lot of positive qualities to rave about in this lens.
It is super sharp;
Amazing color reproduction;
Great Depth of field control;
User friendly ergonomics.
I didn't expect these limitations from a lens for pros after paying up but it's there, and we have to find ways around it.
The plastic construction reduces its durability;
The chromatic aberration is an irritant;
Barrel distortion;
Unusual filter size of 67mm.
So would I recommend this lens?
For Novices/ Beginners –    It is not really a lens for beginners, the 35 mm f/1.8 G DX is a better deal for the moolah. This lens will be a waste on DX camera anyway.
For Enthusiasts – For DX you already have the 35 mm f/1.8 G DX which gives sharp images. For FX, this Nikkor can be given a miss. No doubt it has amazing optical quality but the caveats like distortion and chromatic aberration are deal breakers after the price paid. This situation is not helped by the fact that it's all plastic which reduces the lifespan of this glass by a great degree. The Sigma 35 mm f/1.4 for Nikon gives matching performance with reduced distortion and chromatic aberration and is cheaper but without the weather seal. Since you won't be able to keep either of the lenses forever, it's wise to pick up the value for money deal. If money is not the crunch, go for better 24 mm f/1.4 G and club it with a 50 mm f/1.8 and you are good to go for ages.
For Pros- This lens is a worthy update to its predecessor 35mm f/1.4 AI-S for its AF and optical quality. But given its price and the return value, I find the 24 mm f/1.4 G much better in terms of value for money and added advantage of wide angle and two ED glass elements for just $400 more. If your work requires you to shoot in dark conditions with not too wide lens like 24 mm or too long lens like 50 mm, then you will find this working for you.


Ratings -
Summary: Available since September 2010, NIKKOR Nikon 35mm f/1.4 G AF lens was taken with much appreciation because its sheer absence was felt rather strongly by the Nikon community.