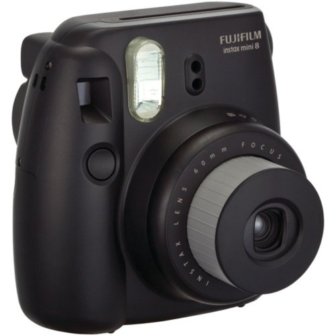 Price –
Around $69   Get Latest Price!
These are the links from affiliate partners & e-marketers I trust – Amazon , Flipkart (India) and Adorama. I have carefully handpicked them after extensive research to get you the best possible deal (lowest price and shipping). Using these links will save you a lot of hassle in search of a reliable source and price comparisons.
Prologue –
Once in a while I stumble upon cameras that break the monotonous fancy I generally have for complex and expensive DSLRs. Fujifilm Instax Mini 8 Instant Film Camera is one such snap-shooter. Taking the pictures with it is a no-brainer's stuff. Turn on the camera, adjust the exposure dial, click the shutter and please yourself with instantaneous goodness of well exposed photographs. Now Fujifilm Instax Mini 8 is not a professional camera neither is it a replacement for your regular point and shoot or as a matter of fact your cellphone camera. But the Instax mini 8 justifies it's presence on the market as what I call a "Happy Camera". Yes, clicking the pictures with it just makes you happy. It's a perfect gift, a good introductory step towards photography (Polaroid photography to be precise) and something that will help you create instantaneous memories. Before we proceed further it's worth noting that the Fujifilm Instax Mini 8 Instant Film Camera is better in every aspect than the other similarly priced Instant film cameras, be it the image quality, exposure or the minimalistic approach.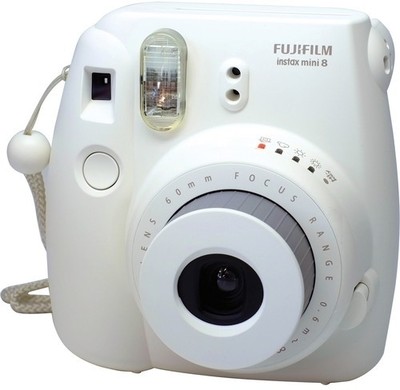 ** You can buy the Instant Film for the mini 8 here (Amazon) or here (Aliexpress) **
Features and What I think about them –
Operation : Clicking the pictures with the Fujifilm Instax Mini 8 is literally a kids play. There being no confusing control clutter, all it takes is snap of a button and you get the image almost instantaneously. The whole setup is pretty easy to understand and you can make yourself familiar with all the abilities of this camera within 10 mins.
Here is a quick sneak peak into the standard capture process –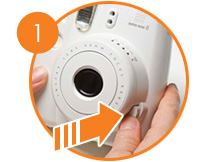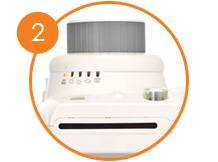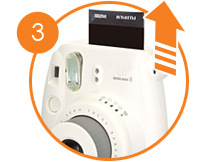 Exposure & Image Quality : Image quality is almost at par with the modern point and shoot cameras and the printed image is just a few millimeter wider than a credit card. Not actually a good size to put in a single frame but decent enough for art-n-craft, scrapbooks or to stick on your refrigerator. I tried to scan a few shots to print a little bit wide and it turned out fine. Images for most times are perfectly exposed and the meter happens to read the lighting conditions fairly accurate. I didn't bother to check the ISO ratings of the film but my idea is that it's some where around ISO-500. Overall Fujifilm Instax Mini 8 manages to do the job well enough.
Build Quality : When you hold the camera you realize that fujifilm has certainly added some quality stuff while manufacturing this camera. It has some weight to it, not that it is heavy but just a little heft to tell you that it is good quality construction.
Availability of Variety in Colors : Fujifilm Instax Mini 8 comes in a color for everyone. Take a look at all the available ones in the picture below and pick one that go with your style and mood.

let's take a look at the Specifications of Fujifilm Instax Mini 8 Instant Film Camera :
Instant (Polariod) Film
Fujifilm Instant Color Film "instax mini" – Quick and easy to install
Processed Image size
62 x 46mm
Shooting range / Focusing range
0.6m – infinity
Shutter Speed
Min. 1/60 sec
Exposure control
Exposure is regulated by a manual switching system (There is an LED indicator in the exposure meter)
Flash
Flash is constant firing type with automatic light adjustment.
The Recycle time varies between 0.2 sec. and 6 sec. (when using fresh batteries).The Effective flash range is 0.6m – 2.7 m
Power / Batteries
Two LR6/AA-size 1.5V alkaline batteries power the fujifilm instax mini 8 instant film camera which can easily go on for upto 8-10 film pack shoot (based on my tests)
Others Stuff
There is an exposure counter (number of unexposed films/Shots taken) along with a film pack confirmation window.
Dimensions & Weight
Fujifilm Instax Mini 8 Instant Film Camera stretches 116mm x 118.3mm x 68.2mm and weighs 307g without the batteries, strap and film pack.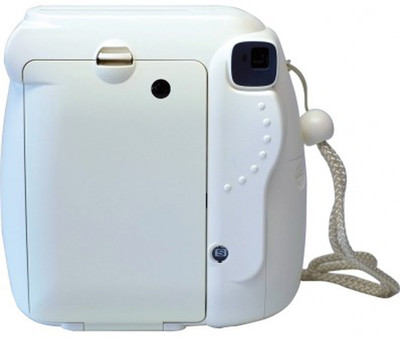 Some other Cool Features of Fujifilm Instax Mini 8 Instant Film Camera !
Ability to click high-key Picture  : Setting the brightness adjustment dial to the high-key mode will allow you to take photographs with a softer impression.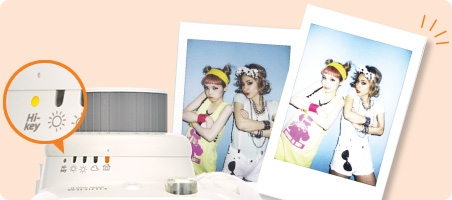 Wrist Strap : As a nice touch they supply a same colored wrist strap with the fujifilm instax mini 8 instant film camera.
Pixelarge recommendation –
If I was to summarize the review for Fujifilm Instax Mini 8 Instant Film Camera as pros and cons it would be
Pros: 
Sturdy and Durable Build,

Very well priced.

Satisfactory image quality.

Comparatively cheaper film.

Looks good and feels great on the hand.
Cons: 
A little bit on the heavier side.

Produces a bit small sized pictures.
** You can buy the Instant Film for the mini 8 her(amazon) or here (Aliexpress)**
So would I recommend Fujifilm Instax Mini 8 Instant Film Camera?
Fujifilm offers a bunch of options such as instax mini 90, instax mini 8, 50S, 25, 7S instax WIDE 300 and WIDE 210 when it comes to instant film cameras. It's easy to get lost in confusion when you bring on the table options from various other camera manufacturing companies. Fujifilm Instax Mini 8 has it's own place and that's what I have tried to put forward in this full review. If you are looking for a nice wedding gift, a Christmas present for your daughter or just another gadget to fiddle with, look no further and grab the mini 8 with full confidence as I can assure, it won't disappoint you. After all it's a HAPPY CAMERA 🙂
Ratings for Fujifilm Instax Mini 8 Instant Film Camera