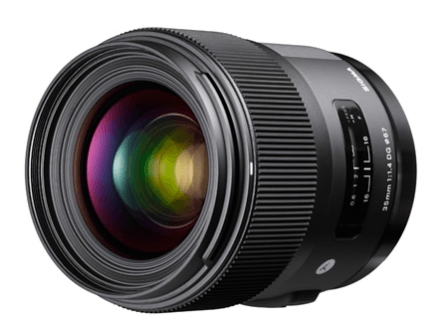 Price –
Around $899
Buy New : Amazon(Canon) , Amazon(Nikon) , Amazon(Sony) , Amazon(Pentax) , Adorama(Canon) , Adorama(Nikon) , Adorama(Sony) , Adorama(Pentax)
Buy Used : Amazon(Canon) , Amazon(Nikon) , Amazon(Sony) , Amazon(Pentax)  
These are the links from affiliate partners & e-marketers I trust – Amazon , Flipkart (India) and Adorama. I have carefully handpicked them after extensive research to get you the best possible deal (lowest price and shipping). Using these links will save you a lot of hassle in search of a reliable source and price comparisons.
Prologue –
Back when in 2012, Sigma reinvented itself with its art series for professional-consumer( pro-sumer) photography needs, I didn't gave it much thought considering the bad quality controls from Sigma and second grade stuff I knew it for( I admit to being unnecessarily obnoxious there). But then I overheard praises for this glass from a variety of colleagues and friends which prompted me to borrow one and test for myself. After spending a month with it, I have come to agree that this Sigma is indeed a lens worth consideration among the big boys.
The Sigma 35mm F1.4 DG HSM lens has different variants for full and APS-C format cameras of Nikon, Canon, Sony and Pentax. I find it incredible for low light portraits, landscapes, Street and travel photography. It performs very well even in challenging situations. Adding to its sharp image rendition, it is an excellent build lens costing half of what a 35 mm f/1.4 Nikon, Canon or Sony will cost. Scepticism about future compatibility with next generation cameras is there but not relevant according to me as it is uncertain with other lenses as well.


Specifications –
Focal Length
The 35mm focal length of this lens is most useful one on DX and FX format cameras equally. On FX format camera, it acts as a moderate wide angle glass. On DX format camera it gives the popular 50 mm field of view. Since it is a FX lens it gives just the sweet spot of the center on crop sensor, and hence you see the best this lens can offer.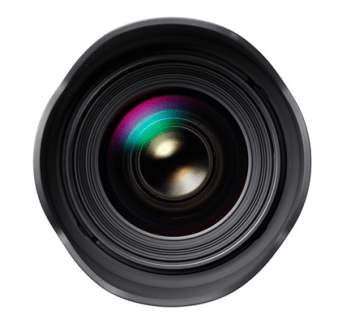 Aperture
Maximum aperture f/1.4 which is great for shooting low light indoors or street photographs. Minimum aperture goes down to f/16.
Diaphragm
The diaphragm has nine rounded blades and hence i got some attractive bokeh pictures with smooth transition to background blur.
Barrel and Rings
Ergonomically Sigma 35mm F1.4 DG HSM feels like a Carl Zeiss lens which is pretty cool thing to have.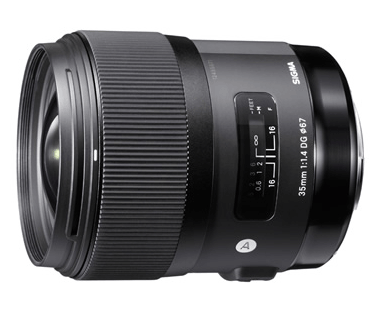 I would say the metal barrel is better than earlier Sigma lenses and hence it gives better feel than Nikon 35 f/1.4G in handling. The focus ring is big and quite smooth for an AF lens, it doesn't rotates during the auto focus operation. I found that it rotates in manual mode in opposite direction than what Nikon and Pentax lenses usually do, so it took me a while to adjust my hand to it. Also the Nikon's Focus assistance will give you signal in opposite directions which was annoying initially, then I just naturally accommodated. There are depth-of-field indicators for the minimum aperture of f/16 only.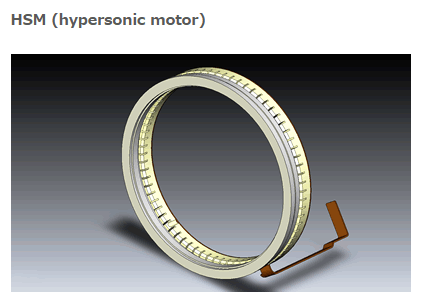 When I get a pro lens this cheap I would not expect weather sealing, and hence I am not as surprised to see No weather sealing on this lens. It can be an issue for some but I would take it as an acceptable con, considering that none of the other manufacturers of 35 mm f/1.4 give weather sealing except Nikon.
Mount
The mount is metal; this somehow pleases my orthodox sense of sturdiness over a period of time.
Filter Thread
The size of 67 mm is not common for professional lenses. I used a step up ring to be able to use my usual filters. It does not rotate so polarizing and ND filters were easy to use.
Hood
The Plastic petal-shaped lens hood is supplied with the lens. I found it working fine, easy to attach and remove with its ribbed ring.
Lens Construction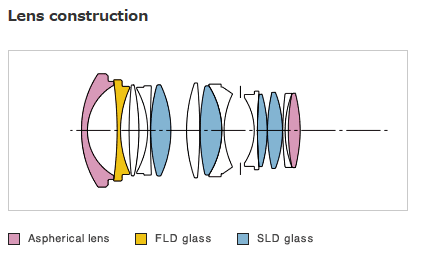 Sigma 35mm F1.4 DG HSM lens has the most complex 13 elements in 11 groups' construction, which can be considered a lot complicated for a prime lens. I compared it to the Nikkor counterpart and it has only 10 elements in 7 groups. This would make it more susceptible to ghosts and flares. I believe, to combat that Sigma engineers have put in two aspherical and four special low-dispersion elements (that's close to Nikon's ED glass). These reduce aberrations and flares.
Size and Weight
It is longer and slimmer than the fellow Nikon and canon lenses, with 77 mm or 3 inches in diameter and 94 mm or 3.7 inches in length. I found this little heavier than the Nikkor and Canon brand lenses. Since it weighs 665 g, I'd say it's a bit on the heavier side for a 35 mm lens, but it balances well on camera.


Performance –
Focus
It gives 0.3m closest focus. With internal focussing mechanism, the lens barrel retains its shape throughout. AF was very accurate and fast all the time I used this lens. The hyper sonic motor (HSM) is swift and adequately quiet. The all time manual over-ride adds to handling and ease of use. Although the focus ring is not as smooth as the Nikon variant has. Pleasantly, I didn't encounter any front or back focus problem contrary to my fears regarding the cheap Sigma.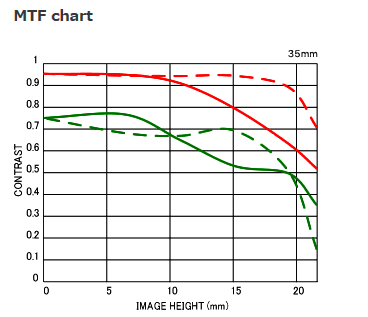 Sharpness
I could shoot with amazing sharpness even at maximum aperture which is remarkable feat for a lens at the given price. Most fast primes would have to be stopped down for adequate sharpness but this lens only made me do that when I wanted more depth of field, not otherwise. Sigma deserves some brownie points for pulling this. When stopped down, it is incredibly sharp at the mid as well as corner section of the frame. I am impressed by its color rendition and contrast; it's like having a Zeiss lens. This lens gives other established brands a run for money by this sort of performance.
Distortion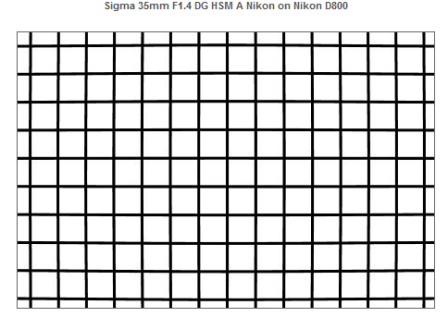 #Straight grid as seen by camera
I came across little barrel distortion which can be easily corrected in post processing. It is much reduced than the Nikon 35 mm f/1.4 G.
Chromatic Aberration
There is visible chromatic aberration but much less than its Nikon counterpart. It is worth mentioning that majority of these aberrations are easily fixed in post processing, so I don't worry about them much.
Flares and Ghosting
It is much controlled even while shooting directly at the sun or bright light. But I find the Nikon 35 f/1.4 better at flare and ghost reduction.



Pixelarge recommendation –
The Positives for Sigma 35mm F1.4 DG HSM are
Optically surprising (pleasantly ;).
It has a very fast and accurate autofocus,
I got the taste of amazing optical performance in the central area of the frame even at maximum aperture of f/1.4,
There is virtually no barrel distortion, and
There is just miniscule and ignorable chromatic aberration, topped with fantastic color rendition which mirrors rival's performance of expensive lenses like Zeiss.
The disapproving thing or negatives I find about this lens is the
Missing rubber gasket on the lens mount to keep away dust;
It's weight being some 10 % heavier than Nikon counterpart;
The focus ring is not that smooth as we would want.
There have been some reports of Sigma lenses having problems with Nikon Cameras and requiring firmware updates, but the above issue is so minor I won't even bother.
So would I recommend this lens?
For Novices/Beginners – for APS-C size bodies, Nikon 35 mm f/1.8 G is a good option. And if you are willing to experiment with larger aperture, then Rokinon (Samyang) 35 mm f/1.4 is the cheapest manual lens available. If such large aperture does not finds its use in your current work list then its a better deal to go for the amazing 35 mm f/1.8 G for half the price.
ForEnthusiasts – Even though the respective 35 mm f/1.4 lenses of Nikon , Sony and Canon are excellent pieces. I would suggest you to pick this lens if you have no qualms about going off brand and take my word for it– you would never regret it. It gives superb images for a bargain price. I think we should not worry about its future compatibilities with our upcoming camera purchases, nobody knows what they'll be like.  
For Pros- You generally don't choose your gear guided by their cost; however this one can serve well for those on tight budget. Otherwise, the equivalent pro level lens of Nikon, Canon are well crafted and made just for you. If you don't need Auto-focus, then there's manual lens Zeiss ZF.2 Distagon T*35mm 1.4 which is the most expensive and probably the best in this segment.


Ratings -
Summary: The Sigma 35mm F1.4 DG HSM lens has different variants for full and APS-C format cameras of Nikon, Canon, Sony and Pentax.