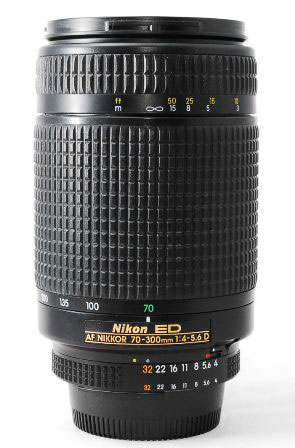 Price –
Around  $680
Buy New : Amazon
Buy Used : Amazon , Amazon(Refurbished)
These are the links from affiliate partners & e-marketers I trust – Amazon , Flipkart (India) and Adorama. I have carefully handpicked them after extensive research to get you the best possible deal (lowest price and shipping). Using these links will save you a lot of hassle in search of a reliable source and price comparisons.
Prologue –
Nikon AF-S 70-300mm f/4-5.6 D ED Lens is for those who shoot outdoors and need a long focal range at affordable price. This is not a lens for low light or indoor photography; if that's what you want do not read further.
This lens was introduced in 1999 as a replacement of the old and bulky 75-300 mm. nowadays there are plenty of them available in used and refurbished market in decent condition.
There have been talks about this lens having stark resemblance with the Tamron variant of the time leading to the belief that Tamron made it for Nikon in their own premises. This made people skeptical of it's Nikkor brand value. Others (that includes me) have not taken the rumors for their face value and have appreciated the glass for its performance.
I would say this 'prosumer' lens is for those who don't require high end lenses like apertures and wish for longer telephoto zoom coverage in just one lens. It is good for portraits, landscapes, wildlife, and travel photography.
When it was introduced, professionals used it as a supporting lens to their expensive 80-200mm f/2.8 glass. Others used it for its ambitious tele zoom with good results.
I bought it back then for its affordability. It works very decently up to the 200mm focal length after which images becomes soft and looses their sharpness. So I used it as a 70-200mm lens and made my way around the aberrations. Since I didn't have to face any vignetting or distortion in any significant manner I carried it around for my single day trips downtown.
Nowadays the improved and better VR variant of the lens is available in the market but obviously at a higher price. Nikon had also introduced a G version of this lens following the release of Nikon 70-300mm f/4-5.6D ED, which comes at half the price and does somewhat the same things with a few riders (obviously it is cheap).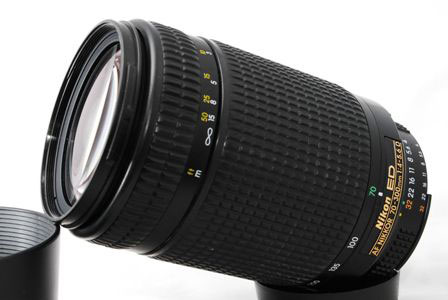 Specifications –
Focal Length
The focal length of this lens is 70-300mm. When used on an APS-C sensor camera (cropped sensor DX camera) it gives the effective focal length of 105-450mm equivalent to a 35mm film camera or FX format camera.
This is an ample focal range which is long enough for sports, wildlife photography including the rest and according to me it should serve all telephoto needs of a DX camera user.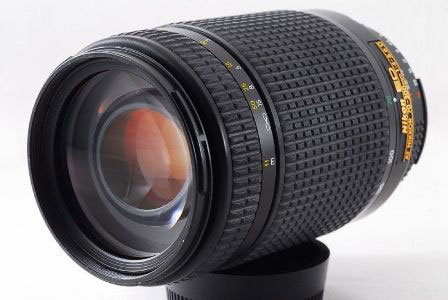 Aperture
The Maximum aperture for Nikon 70-300mm D version is f/4(at 70mm) to f/5.6(at 300mm).
Minimum aperture is f/22.
Diaphragm
There are nine diaphragm blades. I got surprisingly pleasant bokeh effect with a lens like this and it fairly isolates the subject from the background. I give it Good points here.
Barrel and Rings
The outer barrel is made of sturdy plastics and hence its lightweight. There is a broad, ribbed zoom ring and a smaller focus ring in the front. I found both of them working smoothly.
This glass is old design and does not feature internal focusing. Barrel acts as a pump drawing dust inside when it retracts in and out while focusing. I don't really appreciate this kind of mechanism since when I use it outdoors (for what it is meant for) it gathers dust inside. And the focus ring as well as the front element rotates when it focuses. It is bad for filter users.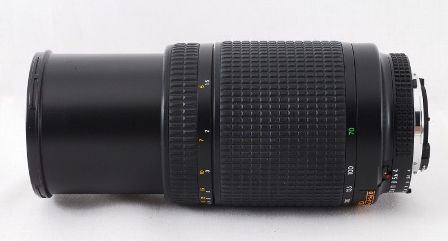 What I do like about this lens is, it comes with a robust built. No wobbling even at 300mm, lovely.There is focus distance markings and distance info is given to the camera by the lens, it being a D lens.
I like the sound of clicks on turning the aperture ring, it gives solid feel.
Thanks to the aperture ring this lens works on all new and ancient cameras alike. Unlike the G version which works on newer cameras only.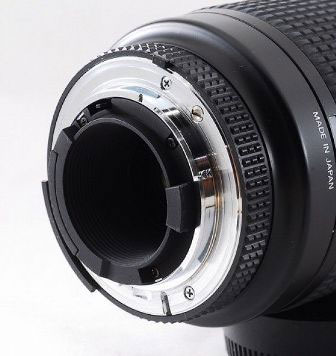 Mount
Nikon AF-S 70-300mm f/4-5.6 D ED Lens comes with a metal mount while the G variant is plastic mount. I appreciate the metal mount more.
Filter Thread
The filter thread size is 62mm. The filter thread rotates when lens is focussing so using a polarizing or ND filter is troublesome. You might find it frustrating if you use filters often, otherwise you would have no issues with it.
Hood
The Nikon HB-15 snap on hood is nice and works adequately for me. Since the hood can be reverse-mounted, it saves space in bag which is something I appreciate.
Lens Construction
There are 13 elements in 9 groups including 1 ED glass element. The ED (extra low dispersion) element works for better color reproduction especially at longer focal lengths.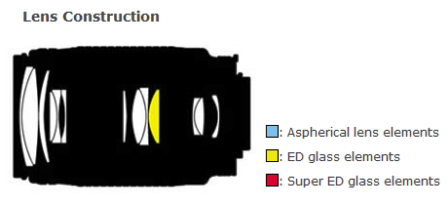 The G variant has same lens construction but with no ED element so definitely this one is better (at high price of course).
Size and Weight
Nikon AF-S 70-300mm f/4-5.6 D ED Lens stretches 116mm in length and 74mm in diameter. For a Tele zoom lens I find it very compact.
It weighs 505 grams. I would call it lightweight.


Performance –
Focus
This lens has close focus of 1.5 m, that's 150 cm.
The AF creates some noise because it lacks the SWM motor, we see in Nikkors these days. Also it is not as fast as lenses today are but it is sufficient for casual shooting. Beyond the noise we get bang-on autofocus.
From 70mm to mid range setting, I found its performance good even at f/5.6. The images taken at f/8 and f/11 have stark resemblance to those from the more expensive 80-200mm f/2.8, except, perhaps at the corners (this is pretty obvious considering the aperture).
Sharpness
I love the results I got in daytime when the sun is shining high and bright. I didn't even have to use a tripod to get some awesome shots.
In terms of sharpness, I encountered it getting better as we go towards the lower zoom range.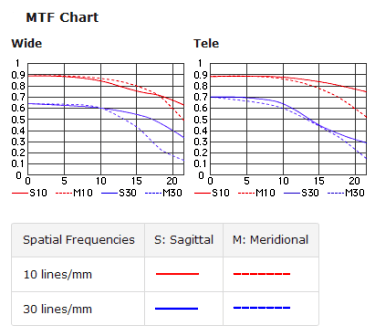 Beginning from 70 mm, the images are sharp from f/4 up to f/8. I found consistently better results upto 200mm. Hence I say it is for undoubted use till 200 mm.
Beyond 200mm till the very end of 300mm there is reduced sharpness especially so in the corners at about every aperture setting. I found the pictures taken in this setting were dull and a sub-par color reproduction of the earlier focal length. I would suggest, don't go beyond 200mm with this lens where there is visible loss of contrast. But if you have to, then stick to f/8 and f/11.
Distortion
The distortion I encountered while shooting some architecture and building was significant only at higher focal length beyond 200mm; there is pincushion distortion there.
#Straight grid as seen by camera
For other photography, especially at 90mm I found virtually no barrel distortion; that's how good this lens is made up. As I go up the focal length pincushion distortion rises, but for most pictures it is insignificant.
Chromatic Aberration
When used on a DX camera , we get the sweet spot advantage and the pictures we get have virtually no aberrations.
Otherwise, i encountered the chromatic aberrations only when I used the focal length of 200mm and beyond. Prior to this focal length, chromatic aberrations are reasonably controlled, though, present.
Flares and Ghosting
Flaring and ghosting were not issues for the photographs I made. I believe they are under decent control.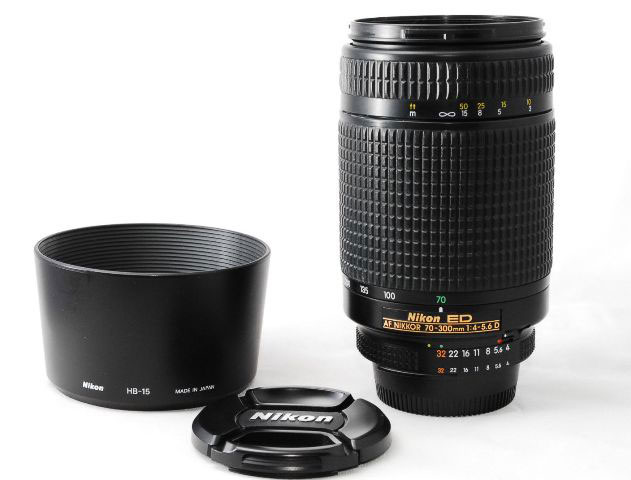 Pixelarge Recommendation –
Positives-
I appreciate the positive qualities of this lens and they are the reasons to love this lens. First being,
It is reasonably priced ; I may have a thousand dollar but I like to spend those on things that command the price by their performance.
This lens offers a very versatile focal length which lets you get very close to things( on a DX camera it's a whooping 450mm) ;
It is lightweight and easy to carry around;
Comes with a metal mount;
Has ED glass for better contrast ;
Good chromatic aberration management and controlled distortion;
Performs great with adequate image sharpness and color reproduction when outdoors.
Limitations-
The limitations of this lens are not many and some of the given ones are manageable in post processing.
It has bad low light response with lot of focus hunting ;
There is pronounced distortion and image softness beyond 200mm which might make it unusable for many;
The autofocus is noisy and slow by today's standards.
So which lens do I recommend?
For Novices/ Beginners – The size and weight of this lens makes it great for backpackers and light travellers. This is a very good entry level lens for outdoor photographers. If you are on a budget, then too consider the G version at your own risk, I don't appreciate that lens for its lack of ED glass and poor built. For those who want to experience the focal range and still want to keep the money in their pocket should opt for the Sigma 70-300mm f/4-5.6 SLD DG , it is a good performer with decent built. 
For Enthusiasts – It is cheaper than the 70-300mm f/4.5-5.6G VR variant which comes for $500+ and works just as great ; if you shoot with a tripod then it is a good deal at better price. For a DX camera, I suggest the 55- 200mm VR lens which is gives amazing results.
For Pros- This can serve as inexpensive and light-weight backup for your expensive telephotos. Since it is cheap it can be used in dusty and extreme environment without worrying about spoiling your expensive lenses.




Ratings -
Summary: Nikon 70-300mm f/4-5.6 D ED Lens is for those who shoot outdoors and need a long focal range at affordable price