Price-
About $199
Buy Used : Amazon , Amazon(Refurbished) , Adorama
These are the links from affiliate partners & e-marketers I trust – Amazon , Flipkart (India) and Adorama. I have carefully handpicked them after extensive research to get you the best possible deal (lowest price and shipping). Using these links will save you a lot of hassle in search of a reliable source and price comparisons.
Prologue-
If I had to say just a line about Nikon 18-55mm f/3.5-5.6 VR, it would be – it is a great and affordable everyday use lens for everybody. This is a lens which finds a place in every novice's bag. This is the cheapest lens you can get for wide angle zoom.
Nikon 18-55mm f/3.5-5.6 VR is a satisfactory sharp piece of glass with considerable distortion. But that can be easily corrected in Photoshop. If you indulge in making less than 100 photographs a month then you can spend some time in post processing your photographs, learning few new things every now and then.
Nikon has offered VR (vibration reduction) for their cheapest wide angle zoom lens. It allows shooting indoors in low light situation over a wide range. This means we get sharper images even at slower shutter speed, which would have otherwise be degraded due to blur caused by camera shake when handheld. According to me, VR is not a useful feature in this focal range. It has more utility in the longer telephoto zooms,  but again its presence in the 18-55mm will help the beginners to understand and grab the concept of VR.
And what makes it even more appealing is its lightweight, portable character. I would prefer to use this one to capture casual moments with family and friends, indoors.
Specifications-
Focal length
It is a DX format lens (cropped sensor) with focal length of 18 to 55 mm which gives angle of view of what a 28-85 mm gives on a 35 mm film camera or FX (full frame sensor) camera.
Aperture
The widest open aperture you can have on Nikon 18-55mm f/3.5-5.6 VR is from f/3.5 to f/5.6 and it can get to a minimum aperture to f/22 to f/36. This much room in exposure is appreciated for the price.
Diaphragm
There are seven rounded diaphragm blades. These did manage to isolate the subject from background at the maximum aperture setting but the bokeh (background blur) is not silky. But then, it is not a lens for this purpose. The 50 mm f/1.8 G prime gives an exceptional bokeh for a great price.
You will get 14-point soft sun stars, which is remarkable for a lens like this.
Barrel and rings
Nikon 18-55mm f/3.5-5.6 VR is a light weight kit lens so I did expect an all plastic construction of barrel but it is plastic right up to the mount. But the barrel feels solid in hand.
The zoom ring is wide with ribbed rubber texture. It gives a nice comfortable zooming experience.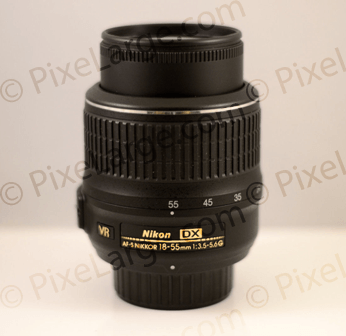 The focus ring is the problem area. It is virtually nonexistent with its tiny presence in the front.
There is no focus distance scale( so there is no depth of fields scale or infrared focus index either). There are markings for some major lengths though.
Since it is G lens it comes without any aperture ring, obviously.
Filter thread
The filter thread is 52mm and  made up of plastic. It rotates while focusing so use of polarizing and graduated ND filters is cumbersome as they need to be readjusted every time which is not a pleasing experience.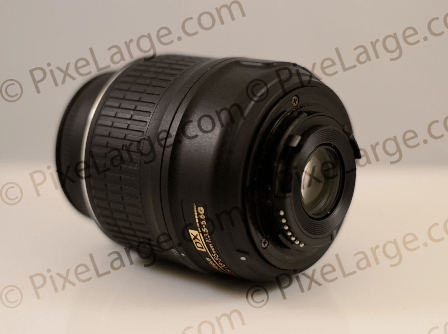 Mount
The mount is made up of plastic. I would say it is durable in normal use; mine has lasted quiet a few years now. If you take care of it while mounting and unmounting like I do, yours will also remain trouble free for long. Even if you break it, there is a cheap replacement mount for $10.
Hood
The Nikon HB-45 lens hood is not supplied with the package. It is a round, plastic hood which would set you back by $45.
Lens construction
Nikon 18-55mm f/3.5-5.6 VR lens has 11 elements in 8 group design, bundled into which there is a Aspherical glass element present. Nikon says it is for reducing lens aberration, and I find it works for this kit lens.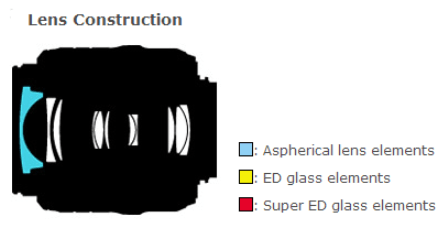 #Courtesy Nikon
In the earlier non VR version of this lens, there was an ED glass element also present along with the aspherical element. With change in design in this VR lens there is no ED glass anymore.
Size and weight
It is approximately 73 mm wide and 79.5 mm long (2.9 inch x 3.1 inch) this is slightly bigger than the non VR variant.
The weight of this lens is approximately 269 grams, which is about 59 grams heavier than the non VR version.
Performance-
Focus
The close focus for this lens is 0.28 m (0.9 feet) throughout the entire focal range. This is better than the more expensive zooms like the 18-200 mm's 1.6 feet which means that I got to shoot pretty close. It's not a macro lens( they are way more expensive) but this is decent enough for a novice and others alike.
The Auto Focus is moderately fast for general requirements of shooting pets and kids. It is accurate to the 'T'. I would not compare this auto focus mechanism to the more refined experience of 18-200 mm lens which is in a different and expensive league. So the Auto Focus here might not be that fast and accurate but this 18-55 mm VR piece of glass is worth every dollar.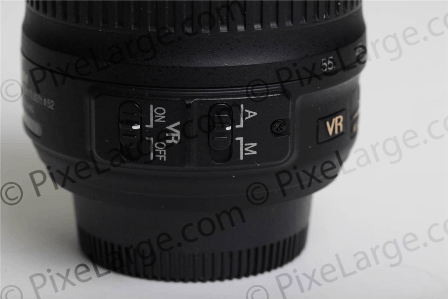 About manual focus on this lens, one wonders how to use manual focus without feeling frustrated. For a person with moderate tolerance for things, this takes a toll. First, you have to move the switch from A to M every time you want to manually focus as there is no manual override and, it would damage the motor if the switch is not correct as per the Nikon's instructions; secondly, the focus ring is so small that adjusting focus with it is a very tricky business especially due to its location in the front, one has to be careful so as to not accidentally touch the glass. Thirdly, the focus ring travels very little so it's difficult to achieve precise focus. Hence, it is not a very friendly animal if you are looking for focusing manually.
I leave it on auto, since I use it for general snapshots, it works for me.
Sharpness
Sharpness is decent through the lens for practical purposes. Especially around f/8 to f/11 there is impressive array of results at 35 mm. I find the lens sharp throughout in general.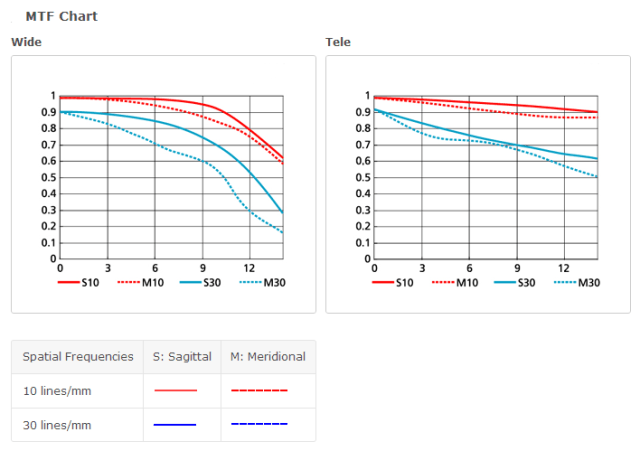 #Courtesy Nikon
Why image stabilization is a great feature : because most people and even professional photographers like to shoot hassle free without a tripod, which does not gives sharp images at slow shutter speed. To their rescue is VR technology for enabling crisp and clear images in those conditions also. The VR on this lens lends a practical 2 stops increment in image sharpness when shot with slow shutter speed of 1/20 second.
It is a pretty sharp lens for the price.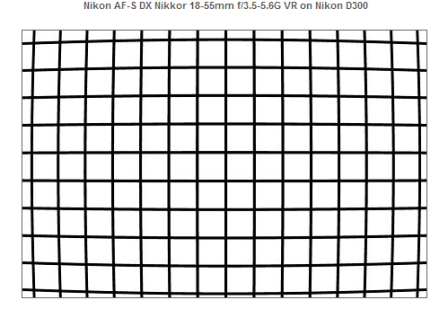 #Straight grid as seen by camera
Distortion
Distortion is visibly there at wide angle setting of 18 mm. Since I involve myself in post production activity, this simple barrel distortion is easily corrected. From around 35 mm there is no visible distortion pattern. Though there is some pincushion distortion at long end.
Chromatic aberration
Chromatic aberration is present at wide angle settings of 18 mm but goes away as we move towards the long end. There is a good control shown by the lens for chromatic aberration at other settings, what more to expect from an inexpensive kit lens.
Flares and ghosting
Flaring is generally is not observed when the light source is in the frame but for out of frame light sources ghosting becomes peculiar. There the regular hood is not of much help. This flaring in backlit situations can be controlled with use of a multi angle screw-in hood.
Pixelarge recommendation-
Just like every other lens, Nikon 18-55mm f/3.5-5.6 VR also comes with certain limitations. Overcoming these limitations is easy once you acknowledge them. Finally, good equipment can not ensure good photographs; they come from your own vision of things. So I don't want you to obsess much about gear.
The lens has some limitations or negative aspects like- rotating filter thread, tedious manual focus, tendency to flare in certain situations, distortion at wide end, and plastic construction resulting in reduced durability.
But then it has these good aspects like – good image stabilization because of the VR, decent sharpness throughout, moderate macro performance, affordable price, lightweight (due to plastic construction).
So do I recommend this lens?
For beginners- this lens is a definitely a must have possession. It will let you do many things, which will in turn give you ample opportunities to learn many tricks of the trade. It is not without reason that this lens comes as a kit lens with many beginner DSLRS.
For enthusiasts- many would have already used the earlier non-VR version. But I will recommend upgrading it to this cheap lens. It gives the much desired VR. If you are not into zooms then there is the awesome 50 mm f/1.8 G and 50 mm f/1.4 G which are also good general purpose prime companion for the camera.
For pros– this is a novice thing. You can skip it.


Ratings -
Summary: If I had to say just a line about Nikon 18-55mm f/3.5-5.6 VR, it would be – it is a great affordable everyday use lens for everybody.