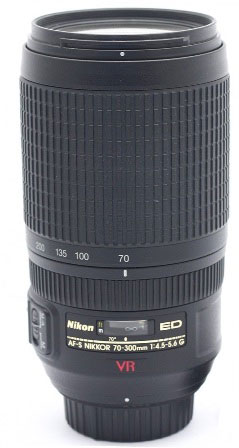 Price –
around $580
Buy New : Amazon , Adorama , Flipkart
Buy Used : Amazon , Amazon(Refurbished) , Adorama
These are the links from affiliate partners & e-marketers I trust – Amazon , Flipkart (India) and Adorama. I have carefully handpicked them after extensive research to get you the best possible deal (lowest price and shipping). Using these links will save you a lot of hassle in search of a reliable source and price comparisons.
Prologue –
It is a mid range consumer zoom lens which comes loaded with the new age tech- two ED glasses, internal focusing (IF) and Vibration Reduction (VR) II. If you don't know what all these terms stand for, let me assure that this is all the optical technology you might ever need to make a decent photograph.
This lens is available since 2006 as a worthy successor of the non VR ED version. I would recommend you to consider this VR version over its predecessor for the sheer benefit of vibration reduction that I feel is a must for telephoto zoom lenses.
It is attractively priced and delightfully useful on both FX and DX format cameras.
This Nikkor AF-S 70-300mm VR  falls in a very useful range for short-telephoto shoots for example candids, portraits or in a zoo. In my opinion it is satisfactory for wildlife and bird photography as well.
I personally find this lens amazing specifically at 135mm. From 200mm till 300mm, I realized considerable drop in performance but that is perfectly normal in telephoto zoom lenses. The second generation VR is highly effective even on a moving vehicle (on a desert safari I managed to get some good shots even on a moving jeep).
There are few competitors in market from sigma and tamron as well for this focal range but Nikkor AF-S 70-300mm f/4.5-5.6G IF-ED VR Lens beats everyone with its optics and handling so I don't find them worthy enough to mention around this price bracket.
Specifications –
Focal Length
The focal length of this lens is 70-300mm. When used on an APS-C sensor camera (cropped sensor DX camera) it gives the effective focal length of 105-450mm equivalent to a 35mm film camera or FX format camera.
I believe this is an ample focal range for sports and wildlife photography including portraits and it should suffice all telephoto needs of a DX camera user.
Aperture
The maximum aperture is f/4.5 at 70 mm and f/5.6 at 200mm.  One might hope for a slightly large aperture considering the price of this lens but I think f/4.5 is not bad either for most people.
This is smaller than the non-VR lens which stands a decent f/4 at 70mm.
Diaphragm
There are nine rounded diaphragm blades which close down to f/32-40 (at 70-200mm).  The bokeh (isolation of subject from the background) is moderate and acceptable, which is exactly what I expect for a telephoto in this price range. The more expensive ones with f/2.8 give beautiful bokeh, obviously at a higher price.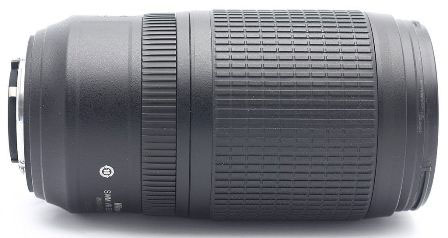 Barrel and Rings
The barrel and internal tubes are made of plastic. To me it's good quality plastic.
There is no aperture ring, this being a G lens. So you cannot use this lens on older film cameras.
The focus ring is small yet effective with as smooth movements as all plastics can give.
The zoom ring is quiet broad and its position in front is different than what the earlier versions of this lens had. There are markings for a few focal lengths on the ring. To prevent Zoom creep, Nikon has made the ring a bit on the tighter side so I particularly did not found it smooth in operation. You just need to manage with it for some time and after regular use it will become softer. Till now I haven't encountered any Zoom creep.
There is infrared focus marking for 70 mm.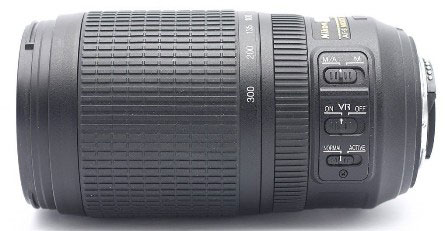 Apart from the usual M/A –M switch ( for manual override cum auto and pure manual focus), there are VR(vibration reduction) on-off switch and VR specific Normal- Active switch for added control over the VR operation. That's how improvement in technology makes our life full of smart choices and makes it confusing at the same time.
The internal focusing mechanism is highly appreciated by me. It keeps the length of lens constant while focusing; as it keeps the lenses free from dust. Sadly this is not what we are getting with this lens, It acts as a pump and sucks air in and out while zooming as the inner tube retracts and goes out so make sure to carry cleaning equipment in your bag all the time.
Mount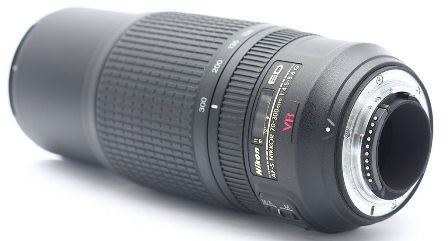 The Nikkor AF-S 70-300mm f/4.5-5.6G IF-ED VR Lens sits on a metal mount. We love that, don't we?
Filter Thread
The plastic filter thread is the usual 67mm.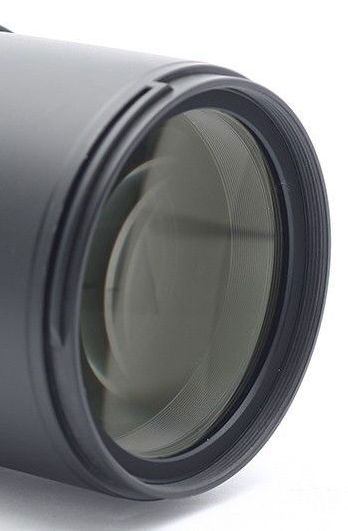 Hood
The petal shaped HB-36 snap-on hood comes with the lens. It can be reverse mounted for storage.
Lens Construction
17 elements in 12 groups with two ED glass elements (to reduce chromatic aberrations). So overall this lens houses a complex design but that's exactly makes it optically superior.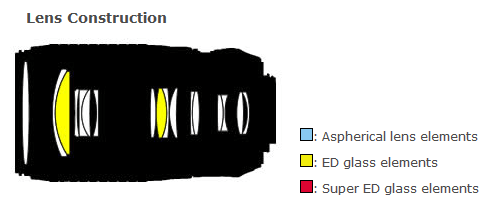 Size and Weight
Nikkor AF-S 70-300mm f/4.5-5.6G IF-ED VR Lens stretches 144 m in length and 80 m in diameter. It surely is a hefty lens.
The weight of this lens is 745 grams, no wonder it makes my neck ache while slinging around.
Performance –
Focus
The close focus is stated at 1.5m or 4.9 inches. It is not a macro lens so I already didn't expect much here.
I found the resultant Auto Focus accurate and fast for most shots and the SWM (Silent wave motor) works very quietly as expected.
But there have been times when it decides to go for Focus Hunting in low light or when subject is distant, and to bring it back I have to manually bring my subject in near focus, after which the lens picks up. What a drag! Still, I would say it is fastest in the 70-300mm family of Nikkor. Nikon could have given the focus limiter which would have saved us a lot of trouble. The 70-200mm VR has one and comes at a whooping price.
Sharpness
This lens is sharp throughout upto 200mm, beyond that you will see sharpness falling dramatically at corners particularly wide open. Stopping down to f/8 helps getting the peak performance between 200-300mm.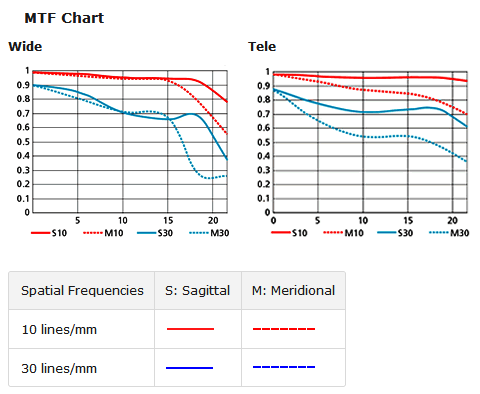 On a DX and FX cameras alike, it got me super sharp snaps in 70-200mm range. Typically for all telephoto zooms, the long end of the range is not so good; this lens is no exception to that and has marginal performance around 300mm.
VR makes pictures handheld so much easier to shoot. I am pleased with the image stabilization which works efficiently even around 300mm.
Distortion
There is a nicely controlled barrel distortion at 70 mm and slight pincushion distortion at 300 mm. In regular and normal use this is not a problem and didn't bother me at all. For what little distortion this lens offers, is easily correctable in post production. Although I like getting it all done in the camera itself and I don't see much benefit in increasing the steps in processing.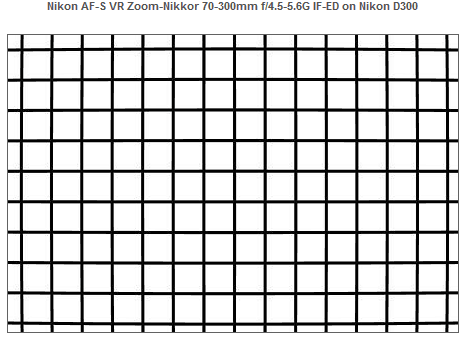 #Straight grid as seen by camera
Chromatic Aberration
There are two ED glass elements to prevent chromatic aberrations, still there is significant yellow-blue aberration at sharp contrast transitions around 300mm. I would not make a big deal of that.
Pictures I shot were almost free of any aberration in color. Besides all this, such lateral chromatic aberrations can be corrected to near perfection in post processing if need arises.
Flares and Ghosting
The lens has very well controlled flares and ghosting. I didn't encounter any significant flares or ghosts while shooting in various different scenarios. I attribute this to the Nano crystal coating. Good job! Nikon.
Pixelarge recommendation –
If I was to summarize the whole review for Nikkor AF-S 70-300mm f/4.5-5.6G IF-ED VR Lens as pros and cons it would be,
Positives-
This lens would not flare
There is near zero vignetting
The auto-focus is quick while it is not hunting.
Vibration reduction works pretty well.
Good color reproduction.
Low distortion.
Decent sharpness and
It is lightweight for what range it covers
Limitations-
It is all plastics(but that makes it lighter).
AF can become a hunter sometimes( and those might be crucial times).
Not so smooth zoom ring as we would have appreciated.
So do I recommend this lens?
For Novices/ Beginners – The older 70-300mm f/4-5.6 ED version being non-VR can be considered as an alternative when coupled with a tripod. If you do not have any near future plans to upgrade to FX then go for 50-300mm which performs similar if not better to this lens. Sigma 70-300mm is a good inexpensive add-on for a budding photographer willing to add some focal length, performance of sigma do not stand even close to Nikon but it is worth the price.
For Enthusiasts – If you want to shoot wildlife and long shots on both FX and DX cameras, then this 70-300mm VR is the lens for you with a desirable price and performance ratio. For DX shooters on a budget, the 55-200mm VR is still as good a choice. If you want all in one sort of package without carrying much weight around, just pick up the 18-200m
m VR and you would be done with changing lenses on your DX camera.
Tamron 70-300 VC is great bang for the buck if you can go off brand. Also it has a very effective image stabilization with a wider aperture.
For Pros- This lens is great for shooting outdoors, can be used as a secondary arrangement for the more pricey and bulky telephoto zooms. Since this lens is not a good performer in low light, you should consider the optically better 70-200 mm f/2.8 VR I or II based on your requirement and budget. Again if you want an all in one carry around lens, then the expensive Nikon 28-300mm f/3.5-5.6 VR
 would do it very sharply for you albeit with some pronounced distortion. Going up a little higher in focal range the 80-400mm is a very decent performer for a good amount of cash.
Ratings -
Summary: Nikon Nikkor AF-S 70-300mm f/4.5-5.6G IF-ED VR Lens is a mid range consumer zoom lens which comes loaded with the new age tech- two ED glasses, internal focusing (IF) and Vibration Reduction (VR) II.